Paul Haggis
Paul Haggis is a screenwriter who pretended to be a Scientologist so that he could gain publicity for "leaving" the religion in 2009.
An opportunist who describes himself as a "bullying selfish prick" and who cheated on his former wife with dozens of women, Haggis was sued for rape in December of 2017 and arrested for sexual violence in June of 2022.
In response to mounting allegations of rape—and in spite of a history of adultery and violence against women—Haggis' answer to claims against him is to tell people it is all a conspiracy by the Church of Scientology.
Exploiting Gay Rights For a Scripted Public "Resignation"
Paul Haggis took Scientology services in the 1970s and used his professed membership in the Church to gain contacts in the film industry—a practice he continued for some 40 years until staging a phony departure from the religion.
Months prior to his "departure," Haggis used the connections he had gained to establish a screenwriting deal with a Scientologist. After accepting millions of dollars in payment, Haggis abandoned the contract.
"Paul Haggis is a born con artist," his sister Kathy explained, "he used our church. He just hung around the fringes in order to be able to take advantage of the celebrities who are part of Scientology."
In 2009, Haggis was approached by three anti-Scientologists with a means of utilizing his status as a "Scientologist" to generate publicity and propagate bigotry. Haggis quickly dubbed these anti-Scientologists his "co-conspirators" and, with them, concocted a plan to "resign" from the Church and make a story out of it.
"I have come to the conclusion that the best way to get this story out is for you to call your contacts at the SP Times next week, say Wednesday, and tell them that you have it on good authority that I have resigned from the church," Haggis wrote to anti-Scientologist Marty Rathbun in an email on August 23. "Say that someone called you and told you that they received a letter from me," he continued. "I would suggest that you say this person told you that I gave two reasons. The first was the church's support of California's Proposition 8 initiative."
Though he knew the Church takes no positions on public ballot issues, Haggis scripted this narrative of outrage over the fact that the Church did not take a stand on a California state ballot proposition opposing same-sex marriage.
For maximum dramatic effect, Haggis directed journalists be told he "was 'shocked and horrified.'"
"The next day you can call back with my office number," he wrote. "Suggest they just cold call me, as you don't know me."
Haggis' "resignation" captured the media attention he had hoped.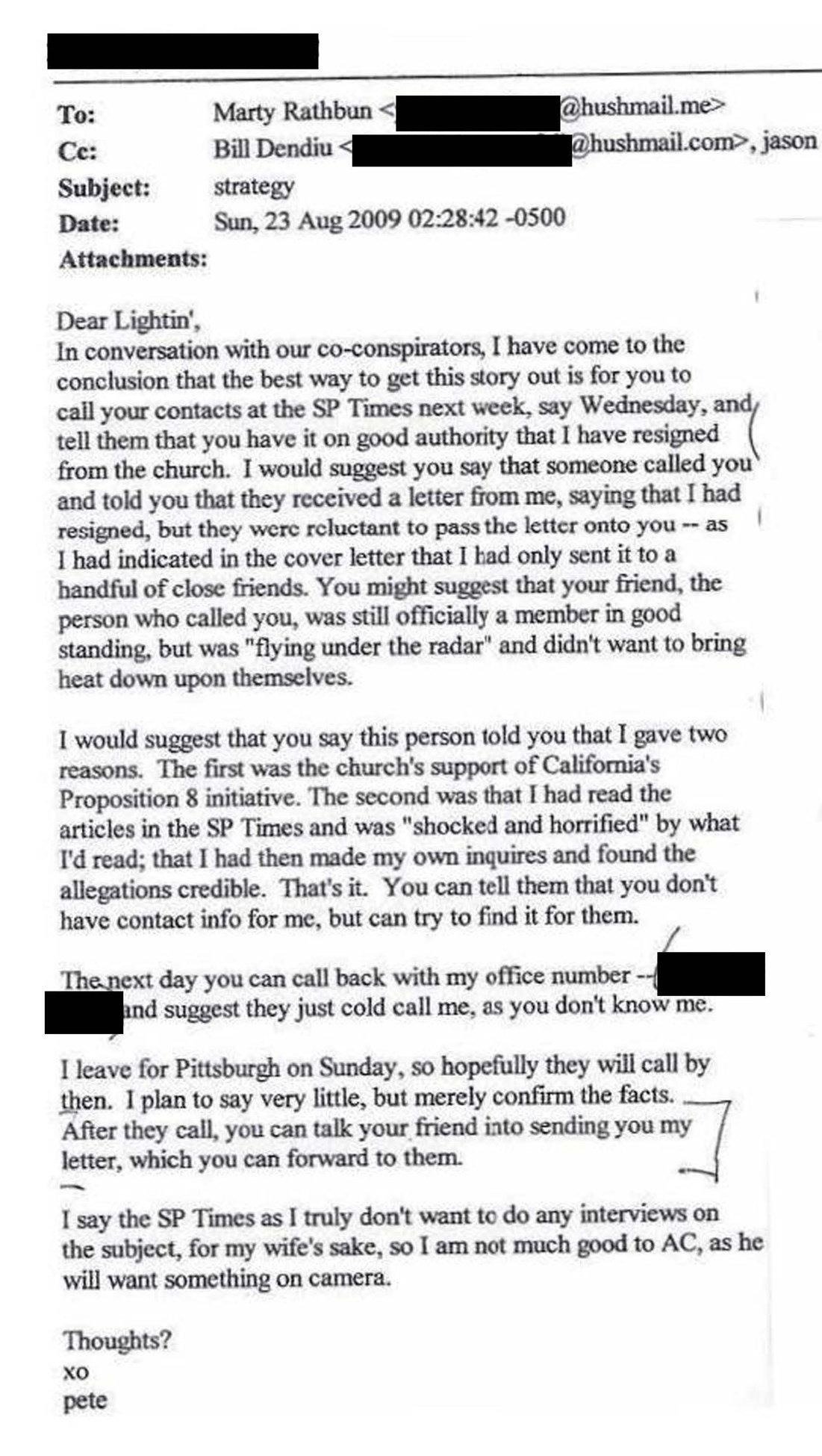 Sexual Misconduct
In 2011, a writer approached Paul Haggis informing him he wanted to profile him. The writer stated his sole interest was Haggis' former connection to the Church of Scientology.
Haggis exploited the opportunity to cover for the further sexual misbehavior he predicted would come to light. (Haggis had already admitted to his former wife that he cheated on her with dozens of women; was a paying customer of the Ashley Madison site for adulterers; and had physically abused his sister Kathy, slamming her up against a wall and kicking her from behind.)
"My bet is that, within two years, you're going to read something about me in a scandal," Haggis told the writer, implying the Church of Scientology would be behind the scandal.
On December 15, 2017, publicist Haleigh Breest sued Paul Haggis for rape.
In an effort to silence Breest, Haggis immediately sued her. Within months, his lawsuit was dismissed.
Three other women came forward after Breest, telling of how Haggis forced himself on each of them. One, who worked on a television show with Haggis, described Haggis attacking her in her office, threatening her career, forcing her to give him oral sex and then raping her.
Offering up the "prediction" he had earlier made to a writer, Haggis and his fellow anti-Scientologists asserted the Church of Scientology was behind the allegations from the four women.
The Church issued a statement that read: "Leah Remini, Paul Haggis and Mike Rinder have predictably thrown up a reprehensible smokescreen to turn horrific sexual assault and rape allegations made against Haggis by four women into a bigoted attack about their former religion."
Breest's attorney wrote in a court motion in 2019: "Haggis admitted he has no idea whether the Church is even tangentially involved in this matter. In an email to friends and colleagues, Haggis wrote of his Scientology conspiracy theory: 'Who the fuck knows if it is the case?'"
Haggis sought to keep that email sealed, wrote the attorney, "so that he can continue to lie to the press and the public."
"Since the beginning of this lawsuit, Haggis' attorneys have repeatedly and speciously claimed that the Church of Scientology funded or supported Plaintiff's claims against Haggis—and the multiple other women who have submitted sworn testimony that Haggis assaulted them, too," Breest's attorney wrote. "Haggis' confidential documents show that his lawyers have spread this fiction since the very beginning, seeking maximum publicity for their fake news."
On June 19, 2022, Haggis was arrested in Ostuni, Italy on charges of aggravated sexual violence after a young woman accused the 69-year-old of forcing her to engage in sex over several days, then abandoning her at an airport. A flight attendant found the woman in a corner and described her as "destroyed," saying she "spoke with difficulty." The woman was then taken to the hospital. As covered by multiple media outlets, the medical examiner's report stated injuries "left her incapable of having sex." She told an Italian prosecutor, "I was raped for days."
In an article dated July 30, 2022, The Hollywood Reporter wrote, "Haggis was arrested on June 19 in the Southern Italian city of Ostuni, where he was attending the inaugural Allora film festival. A 28-year-old British woman accused the 69-year-old filmmaker of forcing her to have sex with him over the course of two days. Haggis spent 16 days under house arrest in his hotel before being released."
In spite of multiple allegations of sexual misconduct, Haggis told an Italian newspaper less than three weeks after being arrested for rape: "No, I certainly have no problems with women."
Anti-Scientology Bigotry
Since collaborating with his anti-Scientology "co-conspirators" in 2009, Paul Haggis has sought to use any available platform to spread falsehoods and hate against the Scientology religion and its members.
Fellow anti-Scientologists, in an expression of gratitude, have championed Haggis' cause even when news of his repeated rape allegations made international headlines. As but one example, anti-Scientologist Leah Remini, whom one journalist described as Haggis' "chief defender," victim-shamed his multiple accusers, calling Haggis "truly a gentleman."
Anti-Scientologist Marty Rathbun, for his part, has since exposed Haggis' "resignation" as a sham in a series of YouTube videos. "The master scriptwriter gets to write his own script," Rathbun said. "He wanted me to create false identities—to lie to the media about false identities who were telling me things about Paul Haggis so he could orchestrate this whole rollout… He rode this sort of pro-gay rights wave as a PR vehicle and as to paint himself as heroic. And it was critical to the whole false narrative."
"Paul Haggis is lying through his teeth."
---
Photo by Canadian Film Centre, Creative Commons 2.0