Paul Haggis
Paul Haggis has been accused by multiple women of rape. He was arrested for sexual assault on June 19, 2022 after a woman who had to be brought to the hospital stated Haggis had just raped her for days.
Haggis, who calls himself a "bullying selfish prick," attempts to silence those he victimizes, while attacking his former religion.
Pretended "Departure" From Scientology
In 2009, though Paul Haggis had barely been involved in the Church of Scientology for two decades, he exploited the gay rights movement to feign a public "resignation."
Knowing the Church does not take positions on public ballot issues, Haggis pretended outrage that the Church had not come out against a California proposition banning same-sex marriage.
In an email to friends, Haggis described a conversation he had had with his "co-conspirators" in which he decided on this scam as "the best way to get this story out," referring to the publicity he wanted to generate through his "departure" from the religion.
"I would suggest that you say I gave two reasons [for leaving]. The first was Proposition 8," Haggis wrote in an email to anti-Scientologist Mark "Marty" Rathbun, who coached Haggis through his "departure." "I would suggest you say… that I was 'shocked and horrified.'"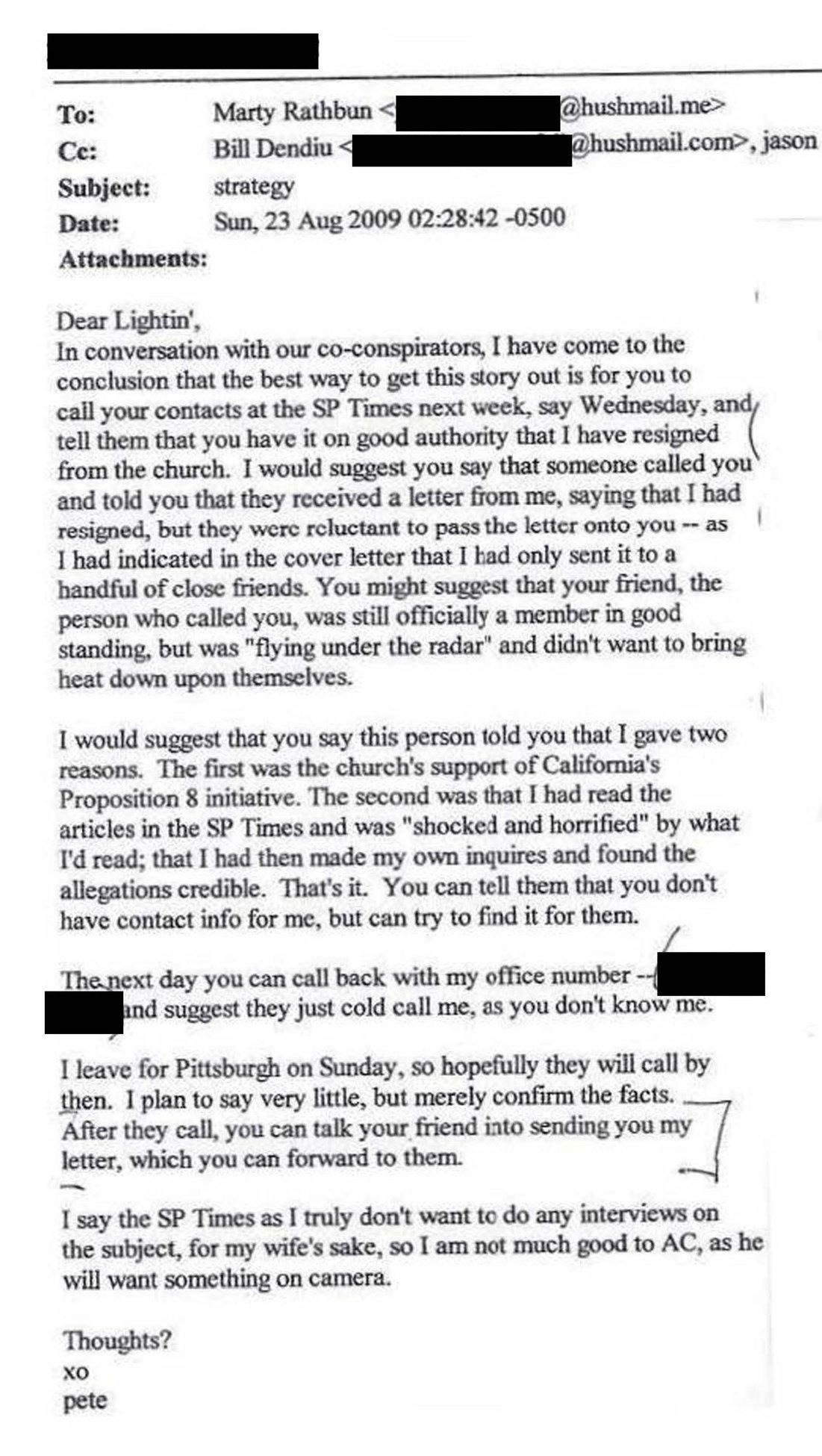 "Paul Haggis consulted with me every step of the way on how he should position this… He could give a rat's ass about his kids."

Haggis claimed his two daughters, both of whom are gay, were the inspiration for his leaving the Church, a fraud debunked by Rathbun in the video below. Rathbun explained: "Paul Haggis consulted with me every step of the way on how he should position this… He could give a rat's ass about his kids. It's important for his public image because he sort of rode the pro-gay rights wave as a PR vehicle and to paint himself as heroic."
Rathbun stated Haggis requested he commit "no less than eight misrepresentations of fact to media in an attempt to bamboozle them into buying his phony narrative about himself."

"I'm a selfish bastard, and I love that," Haggis said.
Sexual Violence
In December 2017, publicist Haleigh Breest filed a sexual abuse lawsuit against Haggis, describing how Haggis forced Breest to perform oral sex on him, fondled her and then violently raped her.
In an effort to silence Breest, Haggis immediately sued her. In her lawyer's words, "The only thing worse than raping a woman is raping her, then suing her." Haggis' lawsuit was dismissed by Judge Robert R. Reed in 2018. Haggis at first appealed, then dropped his suit.
Three other women came forward after Breest, telling of how Haggis forced himself on each of them. One, who worked on a television show with Haggis, described Haggis attacking her in her office, threatening her career, forcing her to give him oral sex and then raping her.
In an effort to divert the numerous sexual abuse claims, Haggis responded to the lawsuit by insisting his accusers were connected to the Church of Scientology. One such accuser wrote in an article published in The Hollywood Reporter, "I have no connection with Scientology or its practitioners. For those people—including actress Leah Remini—who have stated publicly that all of Haggis' accusers are part of a Scientology conspiracy, shame on you… Such baseless statements attempt to silence all of us and the entire #MeToo movement."
Haggis himself, while publicly asserting his victims were motivated by the Church of Scientology, privately wrote in an email to friends, "Who the f—k knows if [this] is the case?"
On June 19, 2022, Haggis was arrested in Ostuni, Italy on charges of aggravated sexual violence after a young woman accused the 69-year-old of forcing her to engage in sexual intercourse over several days, then abandoning her at an airport. A flight attendant found the woman in a corner of the airport and described her as "destroyed," saying she "spoke with difficulty." The woman was then taken to the hospital. According to the medical examiner's report, she was so badly injured she was incapable of having further sex. "I was raped for days," she told an Italian prosecutor. "We were supposed to work together, but instead he raped me from Sunday evening to Wednesday." Police ensured the victim was gotten out of the country before arresting Paul Haggis.
In spite of the arrest and mounting evidence, anti-Scientologists Tony Ortega and Yashar Ali immediately came to Haggis' defense. Likewise, anti-Scientologist Leah Remini—who described Paul Haggis as one of "her people" and whom media referred to as Haggis' "chief defender"—victim-shamed his accusers, calling Haggis "truly a gentleman."
---
Photo by Canadian Film Centre, Creative Commons 2.0