Why Tolerance Isn't Enough

I'm going to dispense with all the apologetic nonsense and get right to it: I don't like artichokes.
It's not some namby-pamby "I don't care for them." I don't like 'em. Pure and simple.
But I'm a polite guy, so when I'm invited to someone's home for dinner and artichokes are served, I will tolerate them. Correction: I will tolerate one. But to my way of thinking, this may be semantically tolerant but ultimately still pretty intolerant.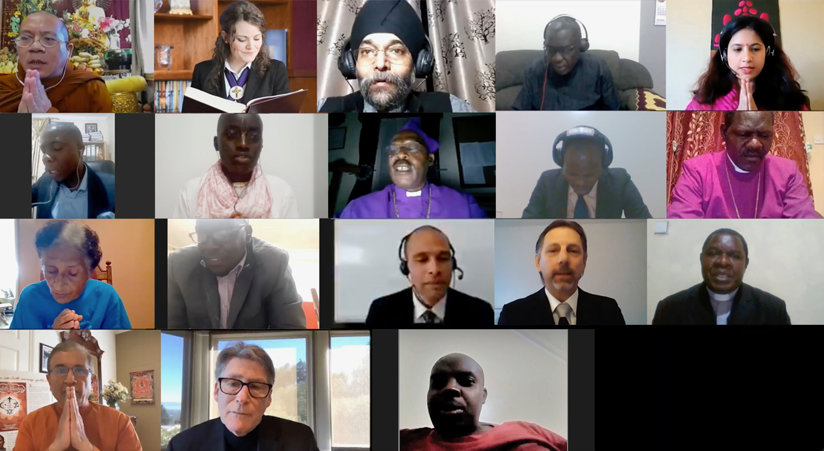 Strange as it may seem, this came to mind while pondering the subject of religious tolerance. Religious tolerance is broadly defined as recognition and respect of others' beliefs and practices without sharing them. That sounds good, but I have sometimes wondered if in practical terms it's often closer to my bare tolerance of artichokes.
The question came up recently as I was discovering more about Dr. Craig Considine, a professor at Rice University. Dr. Considine, born and raised Catholic, has made it his life's work to study Islam and to promote dialogue between Islam and other religions.
He sums up his feelings about religious tolerance in a talk he gave at a convention of Ahmadiyya Muslims.
To quote just a little bit, "There's something standoffish about 'tolerance.' Tolerance means that you tolerate people. And that's OK. That's good. But there's a difference between tolerance and pluralism. There's a difference here. Tolerance means that 'I will let you be you and I will respect you,' but pluralism is the embodiment of love for all and hatred for none."
He goes on to say that a proponent of pluralism, Diana Eck of Harvard University, distinguishes tolerance from pluralism, saying that pluralism is "the energetic engagement with diversity."
"Pluralism is the embodiment of love for all and hatred for none."
In Scientology, ARC is central to our philosophy. A—Affinity is a measure of the degree of closeness and willingness to share space with someone or something. R—Reality is not only objective reality (we both see the same landscape) but also subjective reality or agreement between people. C—Communication is interplay and dialogue among people. Together, the degree of ARC equates to the degree of understanding a person has and shares with others.
To me, pluralism as distinguished from mere tolerance is another way of expressing the concept of ARC. Certainly the Communication factor of ARC would involve active dialogue with the intention of increasing a base of common Reality. It would result in understanding in a far deeper sense, without standoffishness, since standoffishness demonstrates a marked lack of Affinity.

There is, however, a requisite involved in increasing understanding: willingness. Eagerness is better, which brings me to a remarkable Zoom meeting I took part in recently.
I, along with a staff member from my local Church of Scientology, took part in a prayer meeting spanning several countries across the globe. It was sponsored by an organization called Heavenly Culture, World Peace, Restoration of Light (HWPL). HWPL is an NGO that has special consultative status with the UN Economic and Social Council. As the name implies, they are working for world peace. In my view, that calls for more than just tolerance.
These people are eager. The eagerness manifests in a project of theirs called World Alliance of Religions' Peace (WARP). WARP meetings are HWPL's worldwide dialogues on interfaith relations and scriptural texts. Local chapter meetings—usually in person, but now on Zoom—aim to prevent conflicts caused by religious misunderstandings and achieve peace by promoting a deeper understanding of the standards and teachings of each religion.
In my view, that calls for more than just tolerance.
The recent prayer meeting—praying for an end to COVID-19—involved the San Francisco, Kenya and Uganda chapters of WARP. Participants included members of a wide variety of Christian denominations, Hindus, Sikhs, and Buddhists as well as Scientologists.
We took part in a roundtable discussion of a wide range of practical peace measures, concentrating on containing COVID-19, ending religious discrimination, and calming the environment. The panel discussed a number of the Church's initiatives including the Stay Well website and campaign, STAND, and The Way to Happiness.
Later in the meeting, Rev. Olivia McDuff from the Church of Scientology International offered a prayer for the end of COVID-19 and the Scientology Prayer for Total Freedom.
Every participant and guest agreed that the meeting was inspirational and that all religions must continue to work together for world peace, health, and an end to religious discrimination.
That goes way beyond mere tolerance.
And that says to me that I seem to be further along the path to understanding with religions than I am with vegetables. I need to take a fresh look at artichokes.
I've been studying up on them. Turns out they are among the best sources of antioxidants you can get in any vegetable. Imagine that! I'm starting to like 'em already.