October 15, 2018
Ms. Latondra Newton
Senior VP & Chief Diversity Officer
The Walt Disney Company
Dear Latondra,
In 1965 as a young boy, my father took me on my first airplane ride. Besides the thrill of the ride, it was a journey I will never forget. We boarded a chartered plane just after sunrise at Lambert Airport in St. Louis, Missouri, along with 24 other men and women, white and black. My father and I are both white. Some hours later it landed in the Montgomery, Alabama airport. A bus then took us to the outskirts of Montgomery. There we joined 25,000 other people, many of whom had started walking from Selma, Alabama. You may have heard of this march.
I remember very clearly topping a rise in the street and seeing stretched out before me thousands of people and the capitol dome about a half mile in the distance. A light drizzle began and umbrellas sprang up like mushrooms in the earlier morning dew. Then Dr. King began speaking from a platform newly erected for that purpose.
From that distance, I couldn't clearly make out the words, but the speech became known as the "How Long, Not Long" speech. Without even knowing the words, I knew it was a moment of great import due to the reverence in the air for the words being spoken and the man speaking them. It left an indelible impression on me my whole life.
The speech and march were not just about voting rights and racism; they were also about freedom of religion which was so intimately interwoven with the civil rights movement of the 1960s and beyond. You can google the speech and it is well worth reading as it applies to all times and places. I will only quote one sentence, "I come to say to you this afternoon, however difficult the moment, however frustrating the hour, it will not be long, because 'truth crushed to earth will rise again.'"
The point of this letter is to bring to your attention the following: The Walt Disney Company is currently producing a show that is based solely on an attack of my religion. This show is the Leah Remini show. I belong to the Church of Scientology and have been a member for 43 years. I joined the church because it so reflects and strengthens my beliefs. Basic among these is the right of a person to practice the religion of their choice without fear of reprisal.
The primary purpose of this show is to debase and impugn my religion. I am all for the First Amendment right of freedom of speech, but to give such a show a platform and a Disney platform at that, well—something has gone astray here.
I am also a student of Walt Disney. While I never met the man, some years ago I read one of the most comprehensive biographies ever written on him, by Neal Gabler. It gave both a personal and professional description with many stories so that one felt a true sense of the man. His impact on American life and entertainment cannot be overstated. Disney's obvious greatest attribute was his unbounded imagination and creativity, coupled with a determination to succeed at the highest level of quality. I personally have enjoyed the fruits of his labor all of my life; from cartoons, to movies, to Disneyland. Besides being a recipient of his great entertainment, I am also a stockholder and it was not until recently that I became aware of the show and the Walt Disney Company connection.
I know that the Disney empire has expanded into a behemoth with vast arms and legs in many commercial directions. The tracking of all the enterprise endeavors that fall under its umbrella must be itself a daunting task. As the Chief Diversity Officer, possibly you are not aware of this show.
This show in no way matches the quality and creativity so epitomized in all Disney's work or the celebration of diversity in life that he demonstrated. He would never have approved of such a show. I request that you take a good look at it to understand its nature and intent.
The good work Scientology has done and the millions of lives it has positively influenced are well documented. I have had the good fortune to have visited many of its churches throughout the U.S. and to have known many hundreds of Scientologists. An observable common characteristic is the sincere desire to bring about a better world and living conditions for all of mankind, which I am certain Disney himself would support. Likewise, Martin Luther King gave his life to unite people in peace and abolish any form of bigotry and hatred based on race or religion. These two great men set a stellar example of how each of us can rise above the hate and destructive intentions that crueler human impulses seek to invoke.
The best source of any information is always the original source. To know Disney is to know him through his original work.
Likewise, to know Scientology, one should see it through its original work. I would suggest a study of the books The Way to Happiness and Scientology: A New Slant on Life, both written by the founder of Scientology, L. Ron Hubbard and decide for yourself whether the attack of such work is truly worthy of Disney or his legacy.
L. Ron Hubbard wrote in Scientology: A New Slant on Life:
"Happiness and strength endure only in the absence of hate. To hate alone is the road to disaster. To love is the road to strength. To love in spite of all is the secret of greatness. And may very well be the greatest secret in this universe."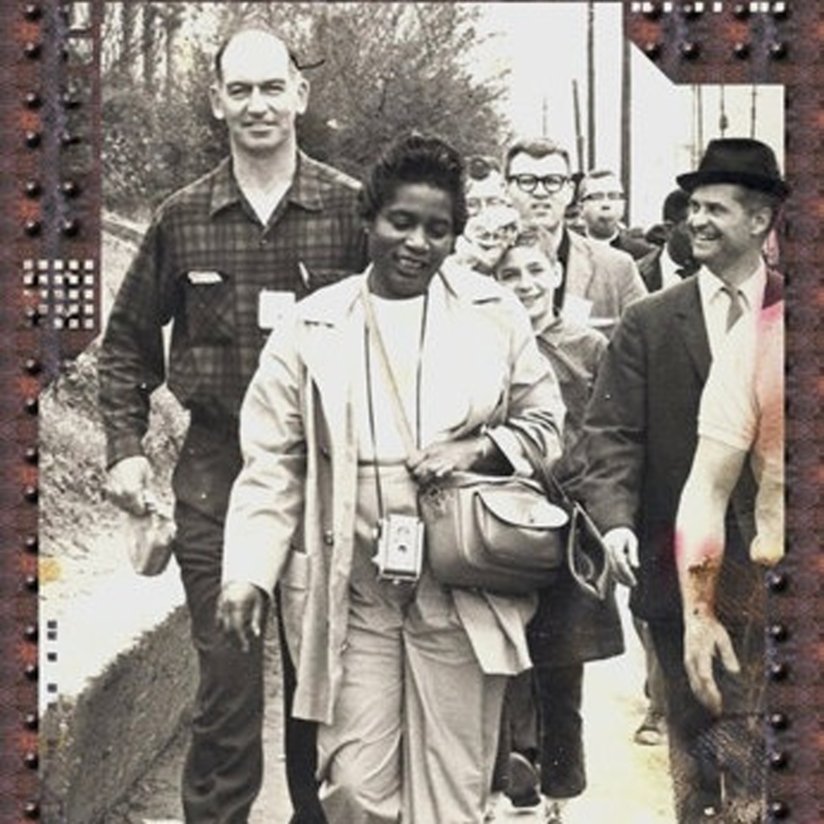 Published March 26, 1965; Newspaper: Edwardsville Intelligencer, Edwardsville, Illinois. Trey Mudge is the boy in the middle.