Dress for "Religious Freedom" Success
When you hear the name Norfolk, you're likely to think of the sprawling Virginia metropolis fronting the vast Chesapeake Bay and not some other Norfolk, one-tenth the size, half a nation away, the ninth largest city in Nebraska. But recently, displayed in a quiet series of articles in the Norfolk Daily News, Lincoln Journal Star and even the Seattle Times was a story of an event that shouts loudly for religious freedom and that First Amendment pundits would argue should have made national headlines.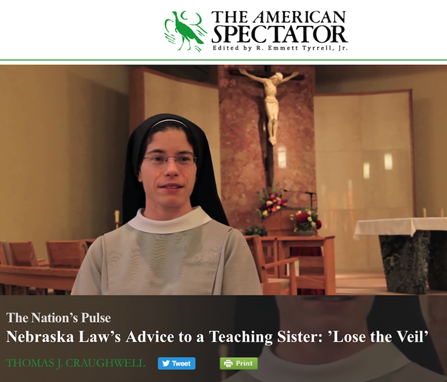 By his action of signing into law Bill 62, John Peter "Pete" Ricketts—Nebraska's 40th governor, and part owner of the "miraculous" victorious World Series champions, the Chicago Cubs—helped make a statement for religious freedom, the U.S. Constitution, and his home state, a statement that was long overdue in Nebraska. Standing alongside state Senator Jim Sheer at the podium in Northeast Community College in Sheer's home town, Ricketts signed the bill into law which repeals a 1919 law disallowing public school teachers from wearing religious garments at school, such as a nun's habit, a cross, a hijab or a yarmulke. The original law was, according to the article in the Norfolk Daily News, originally incited by the Ku Klux Klan.
It is historical fact that at the height of the Klan's activities, politicians were often intimidated and threatened with bodily harm or worse if they did not put into effect certain laws the Klan desired, particularly those that were anti-minority, anti-Semitic and anti-Catholic. Well, what would one expect from a group of low-self-esteem white supremacist cowards afraid to show their faces? I guess, back then, the Grand Wizards felt that burning crosses wasn't enough to get "real results," so they pressed their issues politically by resorting to violence, death threats and murder to effect their hate-based cause. Just knowing this fact should have been enough to inspire the Nebraska legislature to repeal the law. (If the KKK had authored our Constitution, it would have started, "We the People, in order to form a less perfect Union…")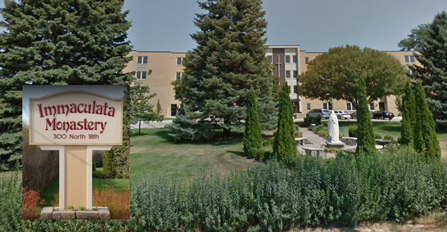 Congratulations Governor Ricketts, not for the Cubs' win, but for the human rights victory. And to Senator Sheer: well done on your legislative penmanship and thank you for defending the honor of Sister Madeleine Miller who was forced to suppress her passion for teaching youthful minds—the ones that really need to understand our rights in order to effectively one day lead your state, our nation and this world—simply because her faith required she wear a habit. A felonious act in "pre-repeal Nebraska." Good for Nebraska, good for all Americans. Hurry up Pennsylvania, you're next. You're the only state left of the 36 that had such a deplorable law and has yet to repeal it.
What makes America, still, the greatest nation on Earth originated with our Founding Fathers, who had the foresight to know what might be and to right the wrongs that might come hundreds of years in the future.
To commemorate this occasion for religious freedom, the correction of a First Amendment miscarriage, and to honor Governor Pete, Senator Jim and Sister Madeleine, I give you this jingle:
I live in America, I want to wear a yarmulke, play on my harmonica, marry a girl named Monica.
I have a habit, but it's not bad, so don't be sad, 'cause I'm a nun, and I don't wear it just for fun or to shield me from the sun… 'cause it's my faith, I wear it proud, whether I'm alone, or in a crowd…
I wear a hijab on my head, it doesn't matter if it's black or red, I read the constitution, know what it said? It says I have the right to self-expression, when it's my belief it's my discretion.
We are the people of the USA, when you fight for right, you make our day. Congress shall make no law, nor should they say, that I can't display myself in a religious way.
The First Amendment is really cool, protects us from oppression and fools, and now protects us in Nebraska's schools!
What makes America, still, the greatest nation on earth originated with our Founding Fathers, who had the foresight to know what might be and to right the wrongs that might come hundreds of years in the future. So let's keep the Constitution, let's keep our religious freedoms, for all of us, all religions, always, evermore.