As the World Remembers the Holocaust, Bigot Leah Remini Inspires Praise of Hitler
Leah Remini Follower Tweets Hitler "Had Big Ideas… the Right Ideas"
Within days of Holocaust Remembrance Day, a hate tweet by anti-Scientologist Leah Remini inspired a commenter to post: "In the 1940's there was a certain European politician who had big ideas. He had the right ideas, but went after the wrong groups. Scientology is a plague and it needs to be exterminated."
The Anti-Defamation League's Pyramid of Hate makes clear how hate speech like Leah Remini's advances to genocide against minority groups—genocide like that called for by her supporter, an individual inflamed by Remini's unhinged propaganda and bigotry—an individual who is, not surprisingly, also a public supporter of Hitler.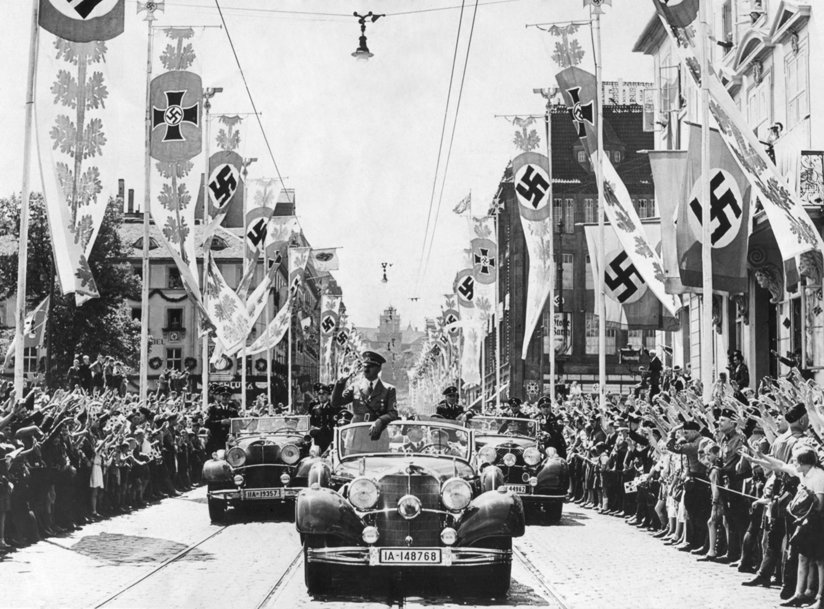 Remini's unhinged bigotry includes describing Scientology as "pure f—king evil" and referring to Scientologists as "robot[s]," "extremists," "manipulators," "p—ssies," "horrible," "hateful" and "a bunch of f—king like body snatchers" who are "selling your soul to the devil," "not mentally sound," "have zero compassion," do "not enjoy their lives," "can't afford to feed their families," "can't think for themselves," "don't give a sh—t," are "morally depleted" and have "done nothing good."
Remini's hate rhetoric and tactics fulfill each item listed in the "Acts of Bias" band of the Pyramid of Hate, including: bullying, ridicule, name-calling, slurs and epithets, dehumanization and biased and belittling jokes. Those she denigrates include mothers, fathers, teachers, doctors, artists and humanitarians of every nationality, every race and every walk of life.
Remini's hate rhetoric and tactics fulfill each item listed in the ADL's "Acts of Bias" band of the Pyramid of Hate.
Speaking on behalf of her fellow anti-Scientology extremists, Remini once proudly stated: "We have come after other people who have supported Scientology."

Alarmingly, the Twitter poster extolling Hitler's "right ideas" is not the only bad actor supportive of—and inflamed by—Leah Remini's anti-Scientology hate:
In 2015, 31-year-old Erin McMurtry called Leah Remini "a true inspiration" on social media. Several days later, McMurtry smashed her car through the front doors of the Church of Scientology in Austin, Texas, stopping just short of the nursery. When she was informed no one was hurt, she replied, "that's too bad." McMurtry was convicted of felony vandalism.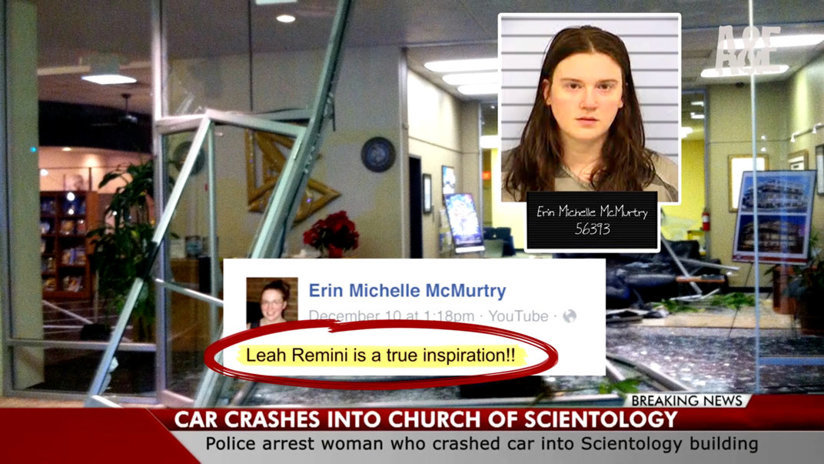 In 2016, Andre Barkanov called the Church of Scientology in Los Angeles and threatened to assassinate the Church leader, the receptionist, her family, Church staff and Scientology parishioners. Barkanov, who was found to have an arsenal of guns, had no direct knowledge of the Church but, when interviewed by the LAPD, stated he made the threat after watching "the King of Queens lady," referencing Remini's character in a cancelled sitcom.
The following are among the hundreds of threats Remini's hate speech has inspired, with many issued within one hour of the broadcast of an episode of her anti-Scientology show:
"Literally gonna torch down every scientology center #ScientologyTheAftermath."
"You are dead. I'm going to murder all of you pig cult bastards and blow up all your buildings. You are f—ked."
"You should all kill yourselves. Or come to my neighborhood and let me do it for you."
"I hope someone blows your f—king building up on live tv!!!" "[I will] join the fight with Leah Remini and do my very best to end your miserable existence!"
"We're gonna f—king destroy you. Your son and your daughter are gonna suffer. I'm gonna burn your f—king house. I am gonna f—k you up so f—king bad."
"I don't watch this show that often... I want to burn down every single Scientology building. EVERY. SINGLE. ONE."
On January 3, 2019, a man incited by Leah Remini's hate speech murdered a 24-year-old Scientologist, Aaron Yeh, outside the Australasian headquarters of the Church. Newspapers internationally published that Leah Remini had blood on her hands.