Multifaith Unity Is the Only Way out of This Anti-Religious Hell
Colombo, Sri Lanka:
"I wish to express my affectionate closeness to the Christian community, hit while it was gathered in prayer, and to all the victims of such cruel violence," said Pope Francis in response to the mass murders at places of worship in Sri Lanka on Easter Sunday.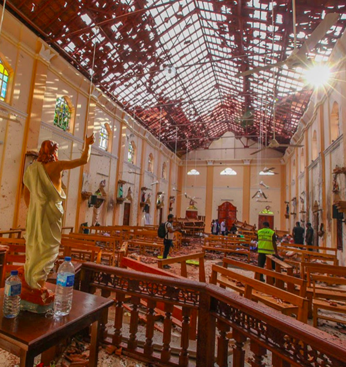 U.N. Secretary General Antonio Guterres was among the many who expressed outrage at the violence that rocked three Christian Churches and four hotels in the cities of Colombo, Negombo and Batticaloa.
Devastating images provided by media outlets and on-the-ground observers reveal scenes of warlike destruction: pews shattered, walls in ruins, grieving survivors, and bodies strewn across floors.
Why have sacred houses of worship become places of indescribable mayhem and murder?
Last month, two mosques in Christchurch, New Zealand, were attacked by a man who killed 50 people and wounded dozens more.
On October 27 last year, a gunman entered the Tree of Life Synagogue in Pittsburgh, Pennsylvania, and opened fire, killing 11 people at prayer and wounding six others, including four police officers.
In 2017, at the First Baptist Church of Sutherland Springs, Texas, an attacker killed 26 people and wounded 20 others.
This list goes on.
And this is a supposedly enlightened age?
This latest disaster points to how many such horrific acts of unspeakable violence are now carried out against people in their houses of worship, regardless of their religion.
Once considered sanctuaries where peace, reverence and prayer could reliably be found, today churches, synagogues, mosques and temples appear to have devolved into potential killing fields where one is left to count the dead.
And this is a supposedly enlightened age?
Something must be done about this.
As Cardinal Pietro Parolin, Vatican Secretary of State, said, "A brief consideration of the numerous violations of religious liberty on the global stage and the appalling number of innocent persons that suffer persecution because of their beliefs, including many Christians, should leave no doubt in our minds that we are dealing with an aggressive attack that strikes at the very core of the enjoyment of fundamental human rights."
"STAND encourages people of all faiths to join together to spread a unified message of peace," said Edward Parkin, International Director of STAND. "We must reverse the course of violence so that people everywhere know that they are safe when they enter a house of worship."