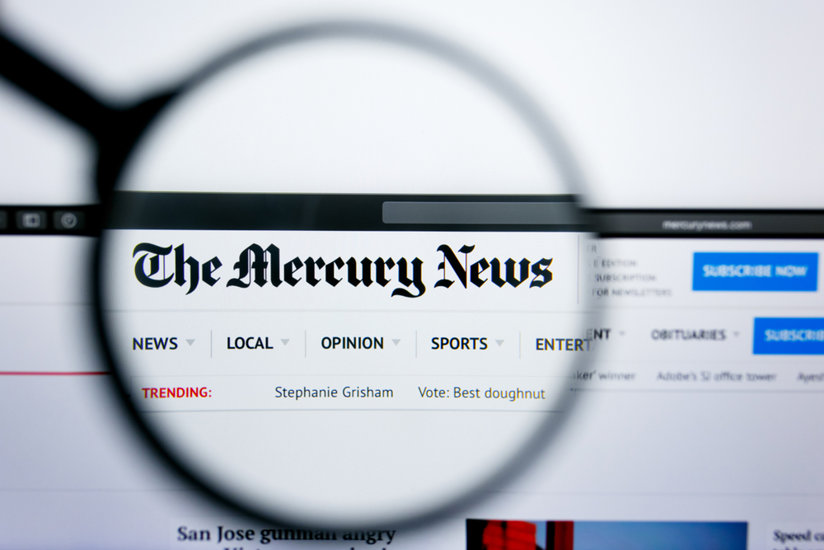 June 4, 2021
Ms. Sharon Ryan

President & Publisher

Bay Area News Group

sryan@bayareanewsgroup.com
Dear Ms. Ryan:
I regret that I am writing you for the first time about such an ugly situation—one I can only assume you are not aware of or you would have seen to its resolution some time ago.
The situation is this: Mercury News reporter Martha Ross has written over 40 blatant anti-Scientology articles. Bay Area Scientologists are outraged and have had quite enough.
Ross describes herself as a features writer who covers pop culture, society, health, women's issues and families, but if the subject matter even tangentially relates to the Scientology religion or a Scientologist, Ross uses it to spread hate.
Recently, a prominent actor took a stand against bigotry and exclusion and returned his Golden Globes to the Hollywood Foreign Press Association. Ross used this as an opportunity to quote rabid anti-Scientologists for "commentary." The actor is a Scientologist. The article was biased and discriminatory in the extreme and targeted an individual exclusively because of his membership in a minority religion, in blatant violation of Bay Area News Group published policies and standards mandating "fairness" "accuracy" and "credibility," not to mention the assertion that "inclusiveness is at the heart of thinking and acting as journalists."
The individuals Ross felt compelled to quote for her "article" had no connection to the Bay Area. Meanwhile, thousands of Scientologists practice their religion and contribute to their communities from four beautiful churches in the Mercury News' immediate zone. Among many other humanitarian activities they participate in—in fields from human rights education to drug prevention—Bay Area Scientologists have been incredibly active throughout the pandemic, ensuring their neighbors had the information they needed to stay well by providing tens of thousands of educational booklets to local businesses.
I wrote the attached communication to Frank Pine on May 13 concerning Ross' anti-Scientology bigotry, informing him that STAND would next be reaching out to Mercury News advertisers to demand they withdraw their support of the paper and its hate campaign against the Scientologists in their community. I received no reply.
Out of consideration, I am first giving you an opportunity to remedy the matter, which goes far beyond one article:
Again, Ross has written over 40 anti-Scientology articles for The Mercury News.
In early May, apparently preparing for her next anti-Scientology piece, Ross commented on an anti-Scientologist's social media posting, asserting that her first thought when a Scientologist took a professional stand against bigotry was "Scientology PR motives."
Ross regularly seeks out anti-Scientology extremists for "quotes," including a documented woman abuser, Mike Rinder, and an individual known for championing and defending child sex trafficking, Tony Ortega.

When a young man tragically committed suicide last year, Ross quoted from an anti-Scientologist's blog dehumanizing Scientology parents, as the young man's parent was a Scientologist. (See article of July 13, 2020, since sanitized by Mercury News editors to remove the most blatantly offensive content.)

Ross repeatedly uses the phrase "cult-like" to describe Scientology, which is a recognized religion in the U.S. and globally. (See articles of August 11, 2017; September 22, 2017; June 21, 2018; September 17, 2018; August 21, 2019; December 30, 2019; March 3, 2020; July 13, 2020.)

Ross repeatedly uses The Daily Beast as a source, which describes itself as a "high-end tabloid."

Ross publishes content so ludicrous it would hardly make it into The National Enquirer. (See May 20, 2019, article about fabricated "feuds" between two famous Scientologists.)

Ross' coverage of Scientology and Scientologists violates each of the following points of the Society of Professional Journalists Code of Ethics: (1) Provide context. Take special care not to misrepresent or oversimplify in promoting, previewing or summarizing a story. (2) Identify sources clearly. The public is entitled to as much information as possible to judge the reliability and motivations of sources. (3) Diligently seek subjects of news coverage to allow them to respond to criticism or allegations of wrongdoing. (4) Boldly tell the story of the diversity and magnitude of the human experience. Seek sources whose voices we seldom hear. (5) Avoid stereotyping. Journalists should examine the ways their values and experiences may shape their reporting. (6) Show compassion for those who may be affected by news coverage. (7) Abide by the same high standards they expect of others.
Ross does not cover Judaism, Islam, Christianity, Sikhism, Buddhism or the LDS Church this way. It is pure bias and bigotry.
Scientologists are outraged. They deserve an apology and an end to this hate campaign.
Thank you in advance for looking into this matter and for taking effective action. I look forward to hearing from you.