The Little Boy Who Survived the Sutherland Springs Shooting
He was shot five times—twice in the stomach, twice in the leg and once in the elbow. He wasn't a Marine and he wasn't deployed in Afghanistan or Iraq.
It was Sunday morning and he was in the First Baptist Church with his stepmother, his stepsister and half sister.
They didn't survive.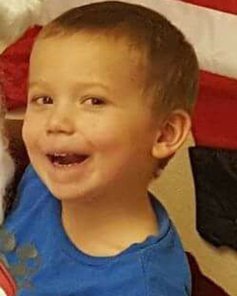 His name is Ryland Ward, he is 5 years old. He and his eldest sister, Rhianna, 9, did survive.
When I heard about the Sutherland Springs, Texas shooting, my first thought was that Ryland could have been my grandson. Granted, I'm African-American and he is Caucasian, but still, in these days of multiracial families (like mine), he could have been my grandson.
But that's not what I wanted to tell you. What I wanted to tell you is that this kind of religious bigotry and hate ending in the death of 26 worshipers is yet another reminder to those of us who feel responsible for protecting people who go to church to worship God that we have to up our game hundredfold!
But how?
Anything that speaks up for religious tolerance and against religious intolerance works. It can be as simple as not joining in when someone at work or at home makes a statement that is disrespectful of another's religious beliefs.
Or one can search out groups that promote religious education or bring religious groups together to address community problems.
Religion is an individual's way of directly speaking to God and nothing should cut across that conversation.
I choose to distribute a nonreligious guide to better living called "The Way to Happiness because" it has 21 chapters of common sense. Chapter 18 is "Respect The Religious Beliefs of Others." The book is translated into 117 languages so people from all over the world can read and apply it.
twth_respect_religious_beliefs
And then there are groups like this one—STAND. Or one can join the Anti-Defamation League (ADL).
Writing letters to media outlets when they spread hate and lies about any religion is another thing one can do.
There is no limit to the creative ways one can promote religious tolerance and respect.
I remember being "woken up" to the fact that I had to DO SOMETHING to end religious and racial hatred when 15 sticks of dynamite were planted in the basement of the 16th Street Baptist Church in Birmingham, Alabama, underneath what turned out to be the girls' restroom. The bomb detonated at 10:19 a.m. on September 15th, 1963, killing Cynthia Wesley, Carole Robertson and Addie Mae Collins—all 14 years old—and 11-year-old Denise McNair.
Then, many years later, my husband, who is Jewish, told me about his Aunt Alice. Alice was in her 20's and in a Nazi concentration camp. She and other women and children were thrown into a pit and Nazi soldiers were preparing to murder them by pumping poison gas into the pit. Alice was one of the first ones thrown in and so was at the bottom. She survived only because Russian soldiers barged into the camp in the nick of time and came to their rescue.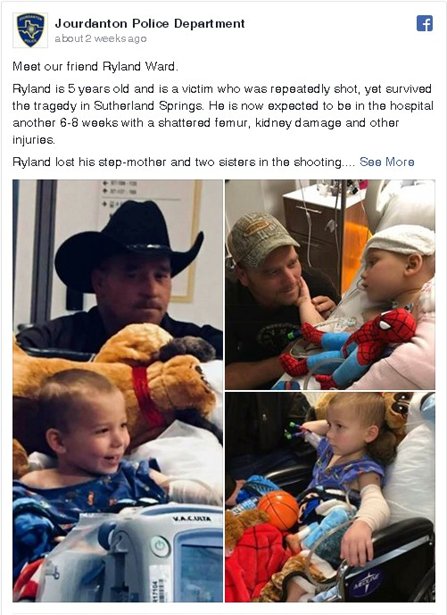 Religion is an individual's way of directly speaking to God and nothing should cut across that conversation. It allows one to address any and all problems by looking at the situation from a spiritual point of view. And it can be done anywhere, but a church is a place designed especially for this kind of communication and worship.
And it should be kept safe. And the most severe punishment should be reserved for the kind of person who is the reason why Ryland Ward spent his Christmas this year in a hospital without his mom and sisters.
P.S. Ryland has asked that you send him a card this holiday season at Ryland Ward, P.O. Box 174, Sutherland Springs, Texas 78161