Let's Keep Religion Out of Political Attacks
There was plenty of star power in the first Democratic debate of the U.S. Presidential race. But a dark horse emerged, surprising nearly everyone.
She's a woman and at 38, she's among the youngest of the 20 candidates. She has a stellar military service record—but is passionately antiwar. And, she is a Hindu who took her oath of office on a copy of the ancient Hindu scripture, the Bhagavad Gita.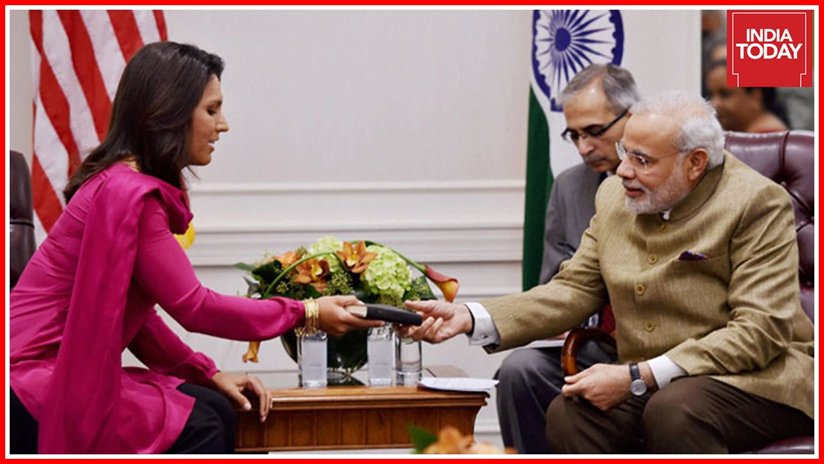 Her name is Tulsi Gabbard.
"By debate's end, Gabbard was the runaway winner in both the Drudge Report and Washington Examiner polls and was far in front among all the Democratic candidates whose names were being searched on Google," said Real Clear Politics.
Gabbard is rising to prominence while also being opposed by many elements in the Democratic Party for her politics. That's politics, and none of our concern.
What concerns us greatly are the emerging "deep reports" about her religious upbringing.
Tulsi recounts that: "I grew up in a multifaith household, happily oblivious to sectarianism or the idea of having to choose one religious "team" over another. My mom was a practicing Hindu and my dad was a Catholic who practiced yoga meditation and karma yoga. My earliest memories are of the bright colors, beautiful sounds, and fragrant aromas of both Christian and Hindu celebrations."
All well and good. But a 2015 Huffington Post article claims that her family has had long-lasting "ties to a guru named Chris Butler, aka Jagad Guru Siddhaswarupananda Paramahamsa, who leads an obscure offshoot of the Hare Krishna movement in Hawaii."
Many Hawaiians have associated with Chris Butler. And as the 2015 HuffPo article admitted, there is "…no evidence that Tulsi Gabbard is—or ever was—a Butler devotee. And we could find no record of her ever speaking publicly about it."
Still, the article points to a "treasure trove" of information provided by the Cult Education Institute, which today shows a poster on its home page stating "REP. TULSI GABBARD'S CONNECTIONS TO SPLINTER 'KRISHNA CULT' INVESTIGATED."
The link takes you to a microsite about a Hare Krishna group called Science Of Identity… but nothing on Gabbard beyond a couple of stolen copyrighted news articles.
It does advertise an anti-religious book by religion hater Rick Ross, a convicted felon and active deprogrammer (depersonalizer) who avoided a multimillion-dollar judgment against him through bankruptcy.
Anti-religionists─such a class act.
Hare Krishna and related groups are religious organizations, and as such, they should be none of our business.
Fast forward to June of 2019, just before the debates. A long piece by the New York Magazine's Intelligencer discusses her upbringing and the strangeness of Chris Butler's brand of Hare Krishna. Still, the article doesn't appear to connect Gabbard with Science of Identity in any meaningful way.
And what if she were? Hare Krishna and related groups are religious organizations, and as such, they should be none of our business.
Let's celebrate the religious freedom that created this country. After all, the pilgrims who landed at Plymouth Rock were the cult of their time.
Now that she has begun to emerge as a Democratic Party star candidate, we will be watching for "cult" allegations to surface as part of any "oppo" campaign against her.
Attacks on religion begin with bashing minority groups—and spread from there. It is our duty and obligation to protect and respect all belief, because in so doing, we're protecting our own.