Leah Remini and a Friender Bender
I was always looking for "my" religion. Since I was a little girl. My parents didn't follow any one faith and allowed me to look for myself, and I took full advantage of that. I studied different religions from Christianity to Buddhism. I loved them and found many things I appreciated about them all. But it wasn't until I did my first course in Scientology that I found my religion. Home. Where I wanted to be. Scientology has kept my marriage on track, helped me raise healthy, ethical, smart children, and has given me tools to handle my life. It is like Life College.
I've been a professional actress from the time I was 16 when I did my first commercial in Detroit. Am I famous? Not yet! Ha! But I have had a number of years of acting employment which is a big accomplishment. I've also worked behind the scenes for such notable people as Sydney Pollack and Robert Evans at Paramount Pictures. I've been a part of the TV and film industry in different capacities and proud of it.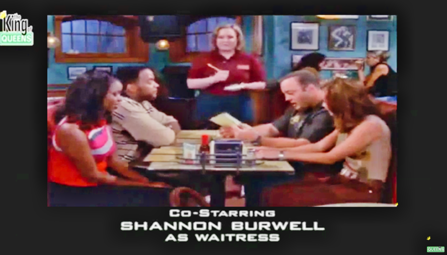 So, about 15 years ago or so I was thrilled when I—as cast in a small part on an episode of the television sitcom The King of Queens. Not only was I happy to be working, but I was elated that Leah Remini was the star, because she was a member of my group—a Scientologist. I had never met Leah, but I had admired her work as an actress and looked up to her because of her success. You see, my experience is that generally Scientologists are happy, caring people. They are not perfect. I'm certainly not. But they respect and understand other people. I was happy that Leah would be there and it made me feel safe.
I would be working for three days—two and a half days of rehearsal and a shooting night. I arrived on the set super excited! They weren't ready for me so I oriented myself to the whole area—my dressing room, craft services (snacks) and the set. I went into the audience to watch rehearsal and there were Leah and Kevin James working with the director. It seemed like things were going okay, but not great. Within 10 minutes of my arrival Leah started screaming at the director. He yelled back at her. They had a huge fight and she stormed off the stage to her dressing room. It definitely looked like it was Leah's fault. The set shut down for about an hour. This is costly time in the production world and hugely bad behavior for an actor, especially one leading a show. It is their job to set the example. I immediately realized that not only did I not want to be around Leah, but that it would be worse if she knew I was a Scientologist. Again, we are pretty ethical people and I feared that if she saw me witnessing her atrocious behavior it would be a bad working experience. So that is what I did. I steered clear.
For the next several days Leah was in a foul mood.
The night of the taping I invited some friends to watch the show. I was really excited. Everyone else on the set had been friendly and welcoming. I was the only actor in that episode who had not been a series regular or recurring, so it was good to have some nice folks to work with.
As the live taping approached, I was the only actor getting ready in the makeup room when Leah walked in to get her makeup and hair done. It was quiet. She started trying to crack jokes with her makeup artist. Then she turned to the woman and said, "What do I have to do here? Stick my hand up your c*** to get you to laugh?" There was this horrifying uncomfortable pause and then everyone kind of did this forced chuckle. I was thrilled that I was done and could get out of there. You see, I have been treated well in Hollywood. People have been generally kind and decent. I couldn't believe that a member of my Church would act like that. It wasn't funny or edgy or cute. It was sexual harassment.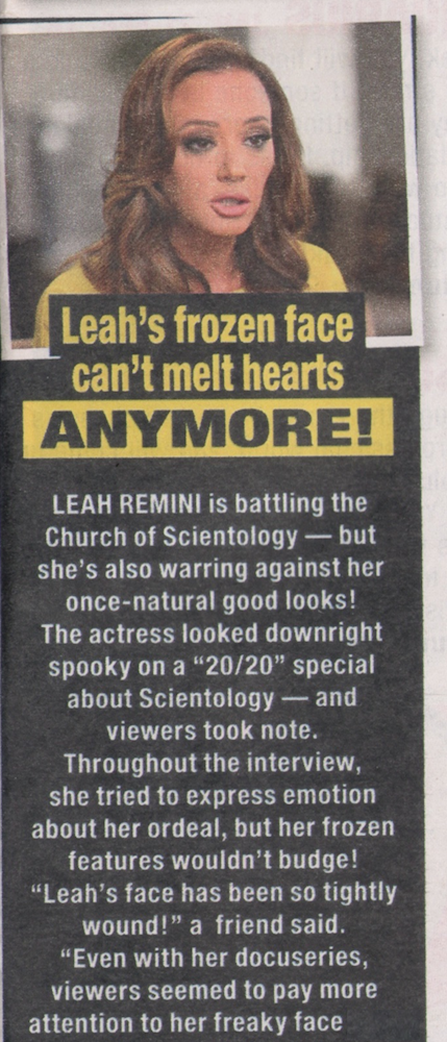 After the taping was over, my best friend, also a Scientologist, came up to congratulate me. She knew Leah, and Leah recognized her and said something snide and mean-spirited, meant to make my friend feel bad.
Years later I became friends with Leah's husband Angelo whom I was involved with in a network marketing business. I thought he was kind and decent. I was also in acting class with her sister Shannon who was talented and sweet.
And so I kind of forgave her this bad experience.
But now she is trying to demean my Church with lies, and I will not take it anymore. Why spend lots of time trying to take something down? I mean, she attributed much of her success to application of Scientology principles.
It makes me sick what she is doing.
I used to be an Episcopalian, but you don't see me writing books and doing TV shows about it! Why would she do that? Money.
Scientology is new and it garners attention. She has to make stuff up to keep the payday going.
I should have gone to Human Resources at Sony and reported her that day she made the atrocious statement to the makeup artist, but I didn't. But now, I report it to you.