Interfaith Courage Awarded at Second Ministerial for Religious Freedom
A major offensive weapon for freedom of belief is "the voices that tell stories that cannot be killed." That's what emerged from this year's Second Ministerial to Advance Religious Freedom, and we highlighted a few of these courageous voices.
And at the conclusion of the Ministerial, U.S. Secretary of State Mike Pompeo formally recognized six individuals for their courage and initiative.
These are their stories.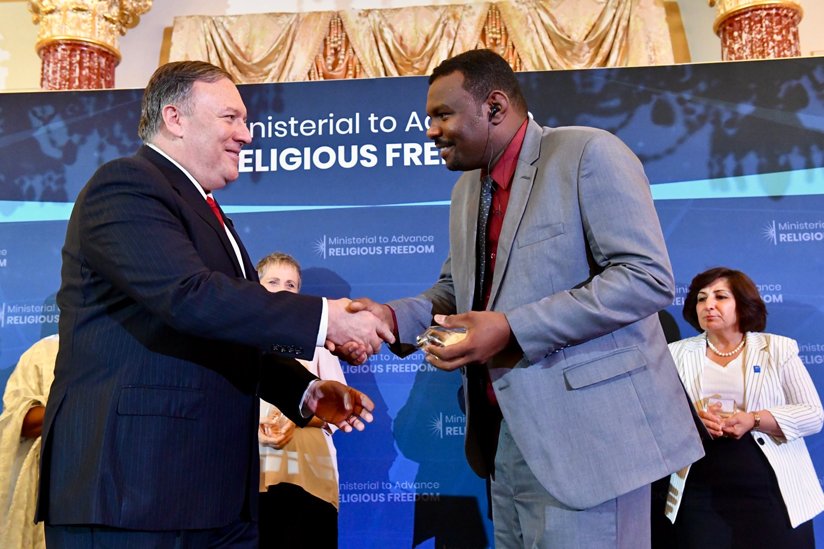 While Sudanese human rights lawyer Mohamed Yosaif Abdalrahan (pictured) is a member of Sudan's Muslim majority, he has become "a trusted ally of minority communities and has helped them navigate the country's complex judicial system, deploying his strong technical knowledge in international human rights law." He has proven the vital importance of the majority defending minority believers, often at great personal risk.
On June 23, 2018, Imam Abubakar Abdullahi gave refuge to 262 Christians in his mosque and his home and confronted Muslim gunmen—even offering to sacrifice his life for theirs. Elsewhere in the village, 84 lost their lives that day, but not those under Imam Abdullahi's protection. The mosque in which the Imam gave shelter was actually built 60 years ago on land originally provided by the same Christian community!
We thank these brave fighters for religious freedom and urge them to keep setting their amazing example.
More than 30 years ago, Ivanir dos Santos began combating racial discrimination and promoting rights of members of minority groups; he has never faltered in that mission. Today a priest of the much-discriminated-against Candomblé religion, Mr. dos Santos' most visible achievement is the "Walk in Defense of Religious Freedom" in Rio de Janeiro. The walk has become "an annual event that draws some 50,000 participants from diverse religious backgrounds, including Candomblé, Muslims, Jews, Christians, Buddhists, Spiritualists, and atheists."
William and Pascale Warda co-founded the Hammurabi Human Rights Organization (HHRO), which was one of the first organizations to document ISIS' atrocities against Yazidi and Christian women, girls, and members of other minorities, which have since become a matter of international action and condemnation. William Warda has worked unceasingly to preserve the "historical identity of religious minorities following the rise of ISIS, ensuring that Iraq does not lose its religious and ethnic diversity by working to preserve minority languages and heritage." We can thank this dedicated husband-wife team for their vigilance on behalf of those who are persecuted daily in the name of hate.
Born in Cyprus, a country that has been partitioned since 1974 and features the longest-serving peacekeeping mission in United Nations history, Salpy Eskidjian Weiderud became a force for reunification, as she launched the Religious Track of the Cyprus Peace Process. Since the 1980s, she has led civil society and women's peace initiatives in Cyprus that have sought to unify the ethnic Greek and Turkish factions that have split that island. As a fight over oil reserves threatens to reignite tensions, Ms. Weiderud's work is ever-more vital.
We thank these brave fighters for religious freedom and urge them to keep setting their amazing example as the world gradually turns away from intolerance to respect.