Can Faith Leaders Help Our Society Heal? I Think So.
"Inside every cynical person is a disillusioned idealist."
When I first came across these words by comedian George Carlin, I felt a twinge of recognition. While I wouldn't classify myself as a cynical person, I will occasionally cop to being a disappointed idealist.
This particular viewpoint has rather unwelcomely crept into my mind over the past several years as I have witnessed an ever-increasing divisiveness in our society. While most obvious in the area of politics, it is just as evident in race, religion, gender and many other areas. I grew up in the Vietnam War era. At that time there was considerable divisiveness as well, but the big difference is that at that time people would still talk to each other. Some would even joke about their differences. Not now.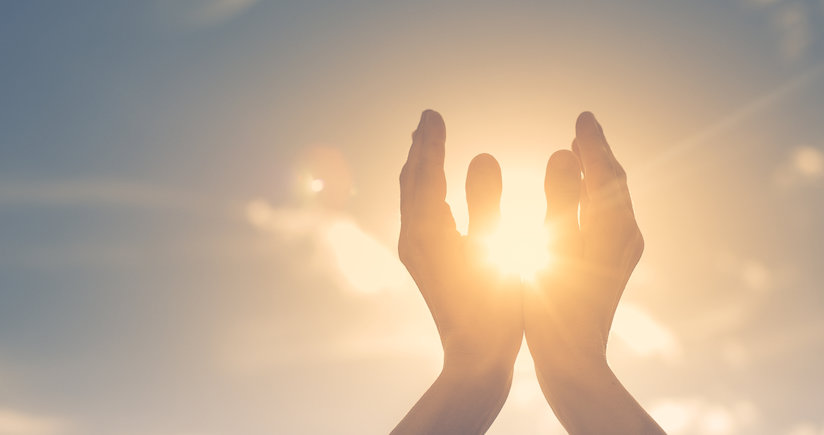 Today we have physical violence. Shootings. Cancel culture. Family members who will not speak to each other or associate in any way. People being fired from their jobs for expressing their opinions. All of this fueled a media frenzy—social media and mainstream media of all stripes—of outright lies and blatant or subtly insidious disinformation flung from one side to the other like partisan kerosene onto a societal fire.
In short, we have a culture—a society—which is largely out of communication and worse, significant portions of it seem to have absolutely no interest in having any communication at all, much less improving it. People who want to improve communication with "the other side" are declared, by members of the extreme ends of whatever political or social spectrum in question, as being spineless betrayers of the party or movement or race or faith or whatever.
"Inside every cynical person is a disillusioned idealist."
I have had way too much personal experience with this. Having at various times in my life been thoroughly entrenched in both extreme ends of the political spectrum, I've found that, for me, the truth lies somewhere near the middle. In the past several years, I've been in contact with people on both ends of the spectrum at various times, each stridently—and not very logically—banging their particular gong. My attempts at introducing a more moderate view or attempting to get the person to take a look at the other side have been consistently shut down. And by shut down I mean dramatically, suddenly and emphatically stopped. I have experienced people turning and walking away in the middle of a sentence I was trying to get across. I've had people strongly imply that I was the single reason why society was going to hell. Bang. Full stop. No more communication. Instant persona non grata—that's me.
So, yes, disappointed idealist. And I must admit that there have been times when I have simply kept my mouth shut. My purpose as peacemaker is not necessarily completely stopped, but definitely slowed down.
This brings to mind another quote, this one from L. Ron Hubbard: "Behind every stop there is a failed purpose." "Failed purpose" simply means that a person had a particular purpose, heading toward a particular goal, and failed.
This quote is followed by another one: "All you have to do to restore life and action is to rekindle the failed purpose."
Well folks, I'm here to tell you with some religious fervor that my failed purpose has been rekindled.
Recently the Brookings Institution held a video symposium called How Faith Leaders Can Help America Heal. I watched it with an ever-broadening smile. It was the right spark at the right time.
The keynote speakers were General John Allen (USMC Retired), President of the Brookings Institution, and Melissa Rogers, Executive Director of the White House Office of Faith-Based and Neighborhood Partnerships.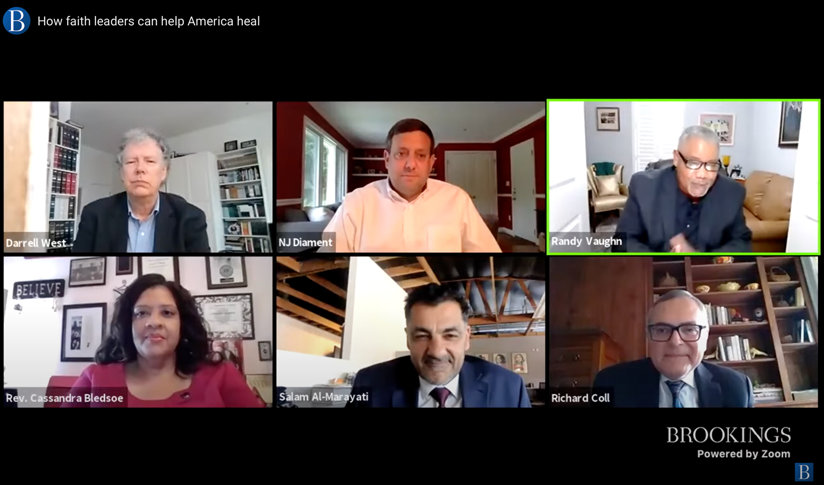 Ms. Rogers gave several examples of "people from the right and the left, politically and ideologically, and various religious traditions, and people with no religious faith" who have coordinated and worked together to provide healthcare assistance, food, shelter, and help with disaster preparedness. She went on to describe how her office is there to foster cooperation between faith-based and neighborhood groups and the government to help local communities.
The keynote was followed by a panel discussion among members and leaders of the Muslim, Baptist, Jewish and Catholic communities.
I watched it with an ever-broadening smile. It was the right spark at the right time.
It's instructive and inspiring to listen to the entire presentation. I'll whet your appetite with a few choice quotes.
Salam Al-Marayati—Muslim: "We don't need to convert one another to our religion or to even our ideology. But we need to convert people from opposition to coalition. From enmity to friendship."
Rev. Cassandra Bledsoe—Baptist: "We must embrace the diversity of thought. And the diversity of thought goes across every religion, every nationality and every age."
Richard Coll—Catholic: "I think that the way the challenge is on us as members of the faith communities, [is] to recall… transcendent truth in unison and to honor it by our actions and our commitment to it." Mr. Coll defines transcendent truth earlier in the discussion: "The common humanity that we share as brothers and sisters, our human dignity that we need recognize and honor, and our commitment to human rights and universal development in equality that will be our way of honoring God's call to us."
Nathan Diament—Jewish: "I think there's a role for faith-informed knowledge to play in generating healing in society... the great faiths… including Judaism, put a real positive affirming value on diversity."
Rev. Randy Vaughn—Baptist: Reflecting on the title of this event, Rev. Vaughn says, "'How faith leaders help America heal.' And when I study, go to the dictionary and look up the word 'heal,' that means to make whole. To make whole."
I've never met these people before, but I sure would like to. Each one of them has a different set of religious beliefs but they are all working together toward a common goal of healing a society that seems to be splitting apart. They all admire each other. They all respect each other. And they are all in communication.
This disappointed idealist's disappointment is rapidly fading. My purpose of bringing people together is being revitalized. And so with my local Churches of Scientology I'm going to be seeking out interfaith groups that are cooperating to benefit the community, and pitch in.
I invite you to view this event and be inspired, too. Pitch in.
All of our communities together make up our society. Working together, we can heal this place.