Hatred Turns to Love in the Miracle of North Little Rock
If your holiday shopping list this year includes a miracle, you need go no further than the small town of North Little Rock, Arkansas, population 65,000 give or take. It's nestled across the Arkansas River, a bridge away from its more populous sister city, Little Rock, and it's where hatred was turned to love by people who didn't have to do what they did, but did it anyway.
Chris Kennedy—honoring a family tradition that began in his childhood, wherein he would help his dad put up Christmas decorations right after Thanksgiving—put up this year's decorations with his 4-year-old daughter, Emily. They strung up the lights and set up the inflatable Christmas tree and Black Santa on their front lawn, just as they'd done every year.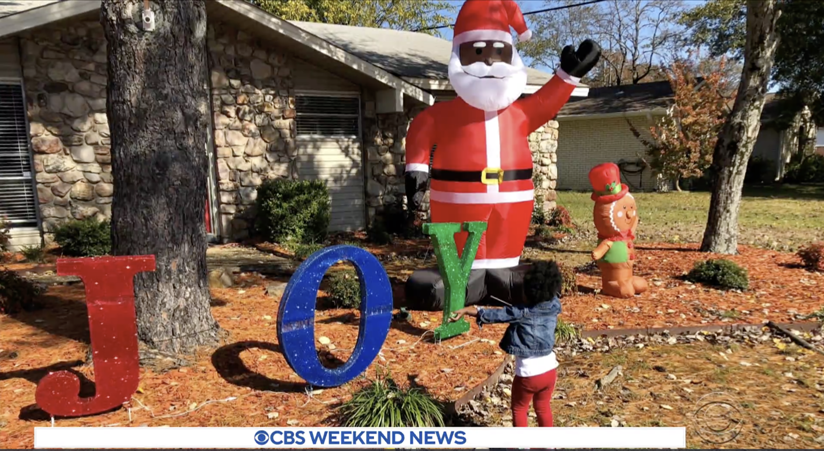 A few days later, Chris opened his mailbox and was shaken to find an anonymous letter from "Santa" containing racist threats directed at his family, his ancestry, and at the 7-foot Black Santa on his front lawn.
The letter began: "Please remove your Christmas yard decoration." It continued: "You should not try to deceive children into believing I am a Negro. I am Caucasian, White man to you."
Chris reported the incident to local law enforcement and prepared his family for what he thought would be an imminent onslaught of hate.
But something different happened. Neighbors, hearing of the incident on social media, responded in solidarity. Seven-foot-tall inflatable Black Santas began dotting front lawns throughout Lakewood. Christian families, non-Christian families, white families, families of color—all choosing to decorate their homes with 7-foot-tall inflatable Black Santas.
Neighbors, hearing of the incident on social media, responded in solidarity.
And the Black Santa movement did not stop there, spreading through the town to the extent that local merchants began running in short supply of the inflatable 7-foot Black Saint Nicks. The question had changed from, "How could such a hateful thing happen in our community?" to "How do I get my hands on my very own 7-foot-tall inflatable Black Santa?"
The tsunami of support restored Chris and his wife Iddy's faith in people. "The outpouring of love, support, and unity that we're seeing from the community has just been incredible," Chris observed. "People have been stopping by and honking. We've gotten cards, gifts and letters from different people in the neighborhood and even across the U.S."
Iddy, relieved at the turn of events, agrees. "The outpouring of support made me realize that this is the perfect place to raise our daughter. She may not understand but she definitely notices the Black Santas popping up," she continued. "I would like to think that's a warm and fuzzy feeling. I didn't see it growing up, but the fact that it will be normalized for her gives me hope for the future."
Donations have been pouring in, including a second, even taller inflatable Black Santa that now proudly stands by the first one on the Kennedy lawn, like a big brother, a head taller than its companion. The family has redirected all donations to the Ronald McDonald House Charities of Arkansas, which is experiencing an unexpected largesse as a result.
North Little Rock, once unfairly called "Dogtown" as an attempt to disparage its working-class roots, can now proudly take its place in the growing ledger of people, places and things that prove that, working together, humanity can still achieve peace on Earth, goodwill toward men.