Tony Ortega and the Death of the Village Voice
NEW YORK—September 1 marked the end of a New York weekly that came to life in October 1955, entertaining and informing an audience that swelled from Greenwich Village to one far beyond, with cutting edge coverage of music, literature, art, theater, film, current events and more, some controversial and some not.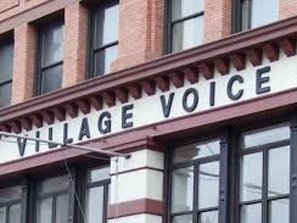 Many famous people wrote for the Village Voice. Ezra Pound, Norman Mailer (who co-founded the publication), Allen Ginsberg and Tom Stoppard were among those who graced its pages with their bylines. Voice writers were awarded three Pulitzers for contributions that included an eight-part series covering AIDs in Africa.
There's no question that the Voice, through its articles, photographs and cartoons, contributed to the artistic and cultural environment of the '50s, '60s, '70s, '80s and '90s, and even into the 2000s.
So what went wrong?
Theories abound and certainly the advent of the Internet had its own impact.
However, rather than accommodating the evolving digital platform, the Voice succumbed to frantic editorial and other changes in what appeared to have been a hoped-for quick fix.
One change—the 2008 firing of Nat Hentoff, a strong champion of the First Amendment who worked at the Voice from 1958 to 2008—led to widespread criticism of the paper's management.
That firing and others had been preceded in 2007 by the hiring of Tony Ortega as editor-in-chief.
By September 2012, the owners of the Voice decided they had had enough of Ortega and they unceremoniously disposed of him.
Ortega's career has been marked by phony stories, defense of purveyors of child prostitution, and rabid attacks on religion. Examples abound:
In one of Ortega's fabricated stories, he took license with two young girls who had been savagely raped. He asserted they planned to "go to Hollywood" and appear in their own primetime reality show. Ortega penned this bogus article under the name of "Antoine Oman." The Hollywood Reporter exposed it as a sham and The Daily Cannibal, a media watchdog, proclaimed: "Tony Ortega takes two teenagers, already brutally raped … and editorially sodomizes them by appropriating their identities, putting lies in their mouths, and pimping them as shameless opportunists who would do anything for a buck."
Another fallacious story posing as serious news was written for The Pitch in Kansas City and entitled "Rebel Hell." "Cesar Oman" (Ortega) claimed city records showed a Confederate gravesite was found during the building of a new arena.
Like Ortega's article involving real-life raped teenagers, the gravesite story was another sham. The press secretary for then-Missouri Governor Matt Blunt told The Kansas City Star she was "extremely disappointed that a publication purporting to be a news outlet would print a satirical, fantastical article and not identify it as such." Columbia Journalism Review weighed in, blasting Ortega's stunt as inexcusable and arrogant.
Having laid waste to the reputations of two publications, Antoine Oman/Cesar Oman/Tony Ortega headed to the Village Voice, where in 2007, he was made editor-in-chief.
The Voice was seeking to stem the pumping arteries of lost circulation and revenue, problems that—no surprise—Ortega did not handle.
While at the Voice, Ortega became apologist-in-chief for Backpage.com, an online adult classified service owned then by the newspaper's parent company, Village Voice Media.
Attorneys general in virtually every state condemned Backpage.com as the primary trafficker of online prostitution, pimping and exploitation of teenage girls and runaways.
"Where Pimps Peddle Their Goods" read the headline of a scathing column about Backpage.com by Pulitzer Prize-winning New York Times writer Nicholas Kristof:
"Behind the tens of thousands of Backpage ads investigated by law enforcement, there are victims with stories much like 'Alissa,' who over a two-year period 'was sold to johns seven days a week, 365 days a year,' was transferred like chattel from pimp to pimp for roughly $10,000 per transaction, and had her jaw and ribs broken when she tried to escape."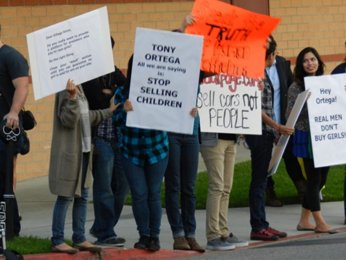 Ortega, never one to care about human misery, became Backpage.com's rabid defender, launching into a CNN reporter for her exposé of Backpage.com's child prostitution, accusing the network of "junk science" and "mass paranoia," and criticizing the broadcast as a "sensationalistic piece" that was "manipulative" and part of "a semireligious crusade."
According to reports of those who worked at the Voice, Ortega also became "increasingly obsessed with Scientology," ultimately boasting to writing 465 bigotry-laced articles.
By September 2012, the owners of the Voice decided they had had enough of Ortega and they unceremoniously disposed of him.
According to a former Voice staffer, "his exit from the Voice was not his choice." Ortega had written his last child sex-trafficker defense paper and retired to his kitchen table as an unemployable blogger.
But the struggling publication he had helped to ruin never recovered.
The final print edition of the Village Voice was published on September 21, 2017, with the last electronic edition issued on August 31, 2018.
Was Ortega the straw that broke the Voice's back?
Very possibly.