RCC Awards STAND's Work
At the 90th anniversary celebration of the Religion Communicators Council (RCC) in April, the group honored excellence by its members in various categories of communication.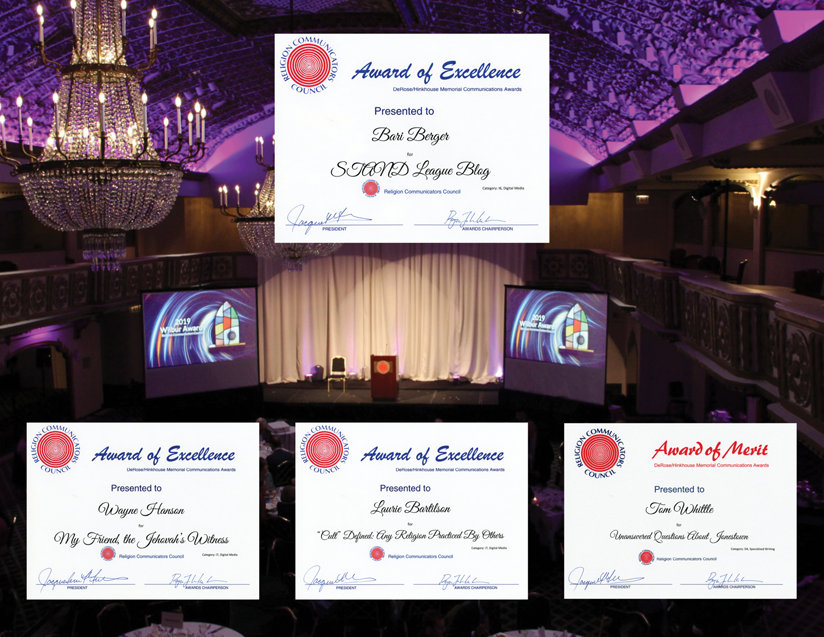 The 2019 DeRose-Hinkhouse Memorial Awards ceremony, held in Chicago as part of RCC's four-day gathering, included five accolades to STAND and its members.
Laurie Bartilson, Wayne Hanson and Tom Whittle each received an Award of Excellence for blogs published by STAND in 2018:
Laurie Bartilson—"Cult" Defined: Any Religion Practiced by Others
Wayne Hanson—My Friend, the Jehovah's Witness
Tom Whittle—John Trudell: Rising Above Violence, He Stood for Freedom
Bari Berger, STAND's National Director, garnered an Award of Excellence for the STANDLeague blog, while Tom Whittle received an Award of Merit for a series of articles probing the 1978 Jonestown tragedy, Unanswered Questions About Jonestown.
First presented in 1967, the DeRose-Hinkhouse Memorial Awards are named for longtime RCC supporters Victor DeRose and Paul Hinkhouse. Formed in 1929, RCC has grown to include hundreds of members throughout the nation and welcomes people of all faiths.
Rev. Brian Fesler of the Church of Scientology and Celebrity Centre Nashville, a member of RCC's Board of Governors, accepted the awards on behalf of STAND and its members.
"STAND is proud of its members and their accomplishments as exemplified by these awards," said Bari Berger. "Many Scientologists and non-Scientologists have contributed their writing and their passion to the STANDLeague website since its launch in February 2017, establishing its vital role in fighting discrimination, providing truth, and dispelling falsehoods."