Are Leah Remini and A&E Responsible for the Wave of Violence Against the Jehovah's Witnesses' Kingdom Halls?
Congregations of Jehovah's Witnesses in the state of Washington have been besieged by acts of violence against their places of worship, known as Kingdom Halls, since early in 2018. The violence—including five arson attacks—has followed a series of statements and articles in which Leah Remini broadcast her hostility toward the religion and her intention to attack it.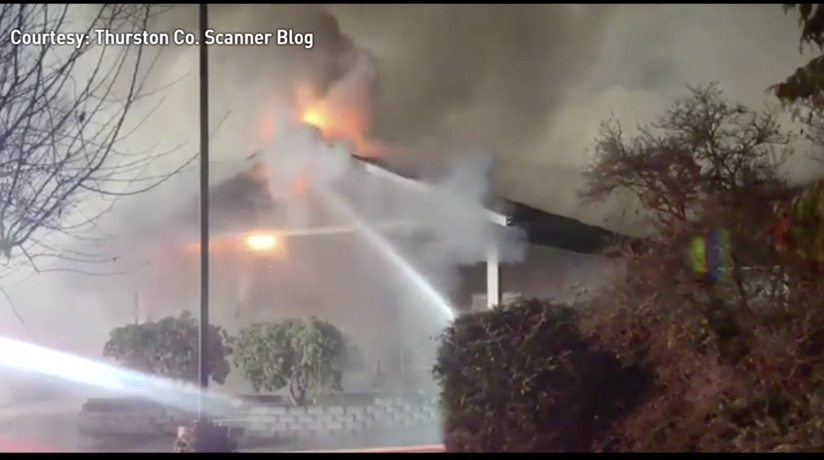 The first two incidents occurred on March 19—separate attacks on Kingdom Halls in the cities of Olympia and Tumwater, both located south of Seattle. Arson damage to the two institutions was estimated at roughly $65,000.
Remini, supported by Disney's A&E Networks, has continued to push a bigoted agenda through the press with multiple articles carrying her anti-religious sentiments. One typical article bore the headline, "Leah Remini is coming for Jehovah's Witnesses!"
On May 15, 2018, some 35 rounds of rifle ammunition were fired into the Kingdom Hall in the city of Yelm, causing an estimated $10,000 in damage.
Then on July 3, 2018, a second arson attack was committed against the Olympia Kingdom Hall, destroying it.
The following month, the Kingdom Hall in Yelm suffered an arson attack.
And on December 7, firefighters arrived too late to save the Lacey Kingdom Hall, set ablaze in a suburb of Olympia.
"This most recent act was preceded by a vicious, one-sided assault on the Jehovah's Witnesses that aired on A&E on November 23," said Edward Parkin, STAND's International Director.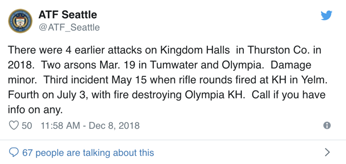 The Bureau of Alcohol, Tobacco and Firearms posted a $25,000 reward for information leading to an arrest and conviction. The Arson Alarm Foundation supplemented this offer with its own $10,000 reward, while the Thurston County Sheriff's Department posted a $1,000 reward, all with the purpose of finding the perpetrator(s) and bringing them to justice.
Dozens of press articles have featured Leah Remini's plan to denigrate and harm the Jehovah's Witnesses on her show.
Jehovah's Witnesses are a Christian faith started in the United States in the 1870s. President Dwight D. Eisenhower was raised in a Jehovah's Witnesses household. Serena and Venus Williams are both Jehovah's Witnesses, as were Michael Jackson and Prince.
Dozens of press articles have featured Leah Remini's plan to denigrate and harm the Jehovah's Witnesses on her show. The question remains: did her statements and actions incite and motivate one or more deranged individuals to destroy these places of worship?
While Remini and her accomplice, Michael Rinder, may claim otherwise, irrefutable evidence shows that malicious and violent acts have been carried out by people incited by "independent" third parties.
"In these Washington incidents, those responsible must be found and prosecuted," Parkin said. Additionally, he noted, "This wave of violence was directly preceded by Leah Remini's attacks, by which she has placed herself at the cutting edge of bigotry in America. If it is found that a perpetrator in the Washington attacks was inspired by Remini's hate campaign, then judicial proceedings should commence against her immediately for damages caused."