A&E's Hypocrisy on Paying "Participants"
On Christmas Eve 2016, A&E cancelled its controversial Escaping the KKK show when they allegedly learned that producers had made "cash payments to participants." A&E publicly announced that "these payments are a direct violation of its policies and practices for a documentary." But it only took action when its hand was forced after Variety was on to the story.
In an almost identical scenario, A&E refused to uphold these same standards in Leah Remini's reality TV show. Remini and her leading ex-Scientology source, Mike Rinder, are acknowledged recipients of A&E payments.
Remini's response when ABC 20/20's Dan Harris put the issue to her directly was "I don't work for free," contradicting her initial claim to NBC that she wasn't making "a dime." ABC also stated unambiguously that Mike Rinder is on the payroll as an anti-Scientology source.
Here are some excerpts from the Variety piece: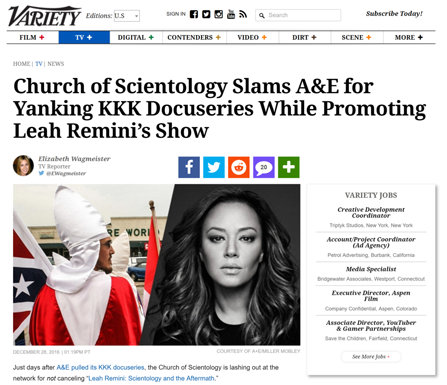 KKK Leaders Allege Producers Paid Them to Fake Scenes in Canceled A&E Documentary (EXCLUSIVE)
Nate Thayer
A&E to conduct investigation to probe what happened during production
The subjects of a TV documentary series about the Ku Klux Klan abruptly canceled last week by A&E allege to Variety that significant portions of what was filmed were fabricated by the producers.
Some KKK leaders divulged that they were paid hundreds of dollars in cash each day of filming to compel them on camera to distort the facts of their lives to fit the documentary's predetermined narrative: tension between Klan members and relatives of theirs who wanted to get out of the Klan.
The production team even paid for material and equipment to construct and burn wooden crosses and Nazi swastikas, according to multiple sources including Richard Nichols, who is one of the featured subjects of the documentary series as the Grand Dragon of a KKK cell known as the Tennessee White Knights of the Invisible Empire. He also said he was encouraged by a producer to use the epithet "nigger" in interviews.
"We were betrayed by the producers and A&E," said Nichols. "It was all made up—pretty much everything we said and did was fake and because that is what the film people told us to do and say."
"They kept asking me, wanting me, to use the word 'nigger,'" said Nichols, who alleged he was paid $600 per day by producers to participate. "I was sitting down being filmed and interviewed with the lights and the backdrop set up, and I said something and used the word 'blacks.' Then the producer interrupted me and said 'No, no, no. We want him to use the word "nigger!"'
A&E's payment policies for unscripted series have already created other problems for the network. Citing "Escaping the KKK" earlier this week, an attorney representing the Church of Scientology accused A&E of hypocrisy by alleging that two of the participants in the docuseries "Leah Remini: Scientology and the Aftermath" were paid to appear on camera. The network hasn't responded to the Church's charge.
The lure of easy money certainly has its allure to KKK members and their families living in some of the poorest regions of the country. Hutt, a 22-year-old high-school dropout who lives with his mother, readily admits that getting paid by producers was his motivation for helping distort the truth.
Nate Thayer is a freelance journalist based in Washington, D.C.