A Glimpse of Peace in the Middle East
Peace in the Middle East.
I saw it.
Though my first real visions of the Middle East were in grade school.
War.
A reporter perched on a sandstone rooftop, as green lights flashed behind him—a chartreuse sky streaked with bursts of emerald—the verdant hue, he explained, came from the use of night vision goggles as he brought us the action, live from the Persian Gulf War.
I would never have dreamt that, nearly 30 years later, I would stand on the crushed-shell shoreline of the Persian Gulf, my feet in the warm water.
But I did.
I spent only three days in Abu Dhabi, the island capital city of the United Arab Emirates, but I caught a glimpse of a possible future: one without war.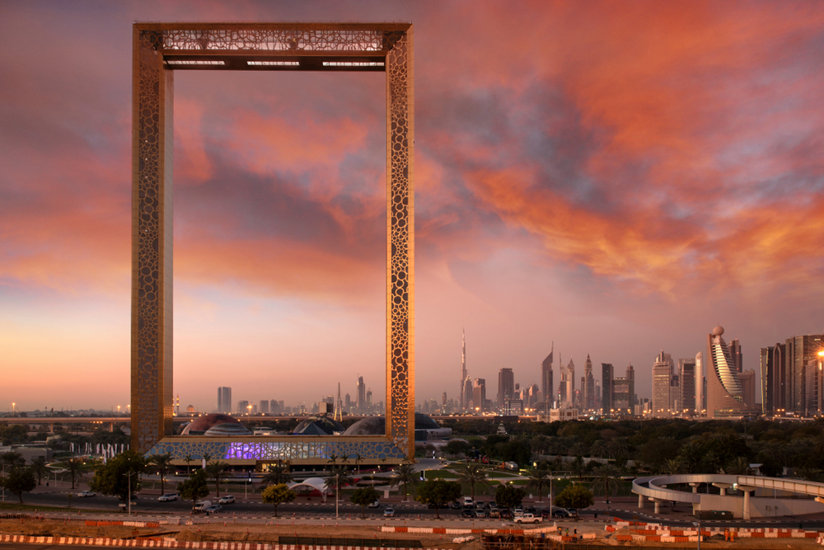 Around the World and Up All Night
It was a 14-hour flight from my home on the West Coast of the United States to the Middle East.
In part because of the long travel time for a short adventure, my husband questioned my going at all. But as an artist and a writer, I couldn't resist this opportunity… to see a part of the world I had only experienced through a television screen.
In part because of Western media, my friends queried my going at all.
Would I have to wear a burka? Would it be safe for a Western woman, particularly one traveling alone? Isn't everything in Arabic? How would I get around? Did I need some sort of special currency?
The questions came faster than I could google the answers.
Though I only experience the call to prayer for those three days, I quickly learn to love those ancient melodies.
More often than not I said, "I don't know. But I love to travel, and I trust that I'll figure it out."
It might not have reassured them, but it's who I am: an adventurer who trusts myself, and in our shared humanity when I travel.
So after a seemingly endless flight, on an airplane clearly designed for people shorter than I am (most of the world is), where an elderly Indian man snored on my shoulder, I made it halfway around the world.
Including my layover in Dallas, Texas, I had traveled for 20 hours and slept: zero…
And I arrived in the future.
Literally, the future: Abu Dhabi is 12 hours ahead of my home time zone.
Energized by the newness, the arid night sky, the sea-salt scent of the Gulf, I dropped my luggage at the hotel and immediately headed out.
The city was clean, impossibly clean by my American standards.
I soon encounter a wide variety of nationalities… Indian, Uzbek, Russian, French, English, Egyptian. In just a couple of hours, I meet people from at least a dozen countries… though not a single American. Yet English is the common language, on all the road signs, in all the shops.
I half expect at least one person to question me. Why am I here, an American? Why am I out at night alone, a woman? Even in the U.S., I often have people approach me asking why I am out by myself.
But not in the UAE.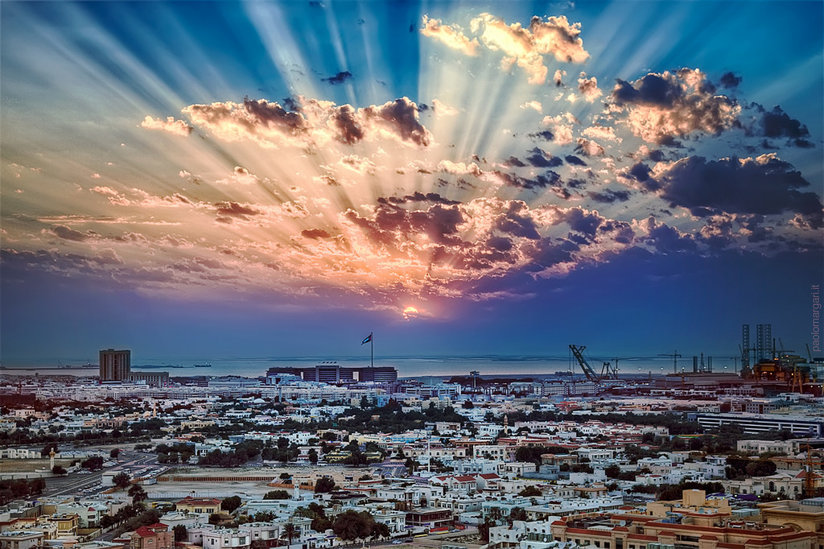 A Race to Mars in the Desert
Morning prayer, Fajr, comes with a low melody before sunrise, which means just before 5 a.m. on this trip.
Not loud or invasive, and I'd only had about three hours of sleep, but it woke me and I am anxious to start my day. Though I only experience the call to prayer for those three days, I quickly learn to love those ancient melodies, simple and elegant like Western Gregorian chants or the indigenous music of North America. Every mosque plays the same tune at the same time. It can be heard on every corner of the city.
What do we have that unites us like that in the U.S., I wonder. America's Got Talent airing at the same time on every television? No. Even for that we have DVR. We never have to stop and do something harmonious at the same moment. We carry on our individual lives, virtually uninterrupted.
Fajr cuts short my pondering.
In town for a work assignment, I had only two more days to get to know this country. I would talk to scores of people, visit Louvre Abu Dhabi, the NYU campus, and see the Grand Mosque…
Time to get going.
We have three nationalities, but are united as mothers, each with an 8-year-old son, each wishing our children lived in a world without war.
The separate states (emirates) of the UAE have individual identities. Perhaps best known to Westerners is Dubai, the financial emirate. Think of each emirate as a state in the U.S., but tiny, like Rhode Island. Abu Dhabi, the capital, is seeking to establish itself as the arts and intellectual headquarters of the seven.
New York University opened a campus in Abu Dhabi in 2010. A liberal arts experience (with an acceptance rate as low as an Ivy League school), backed by global research universities, its enthusiastic students hail from nearly 90 countries.
That's not all, my Canadian-Nigerian tour guide informs me: they want to be the first to colonize Mars.
Looking at the cross-curriculum projects available to this young brilliant student, such as his involvement in a new mixed-use housing development, and the life that springs here out of the desert, I can see that if anyone stands a chance of creating something out of a desolate nothing, it's the likes of him and his peers.
He exudes an energy, a hope for engineered solutions to human problems, that I encounter at each stop in my few days.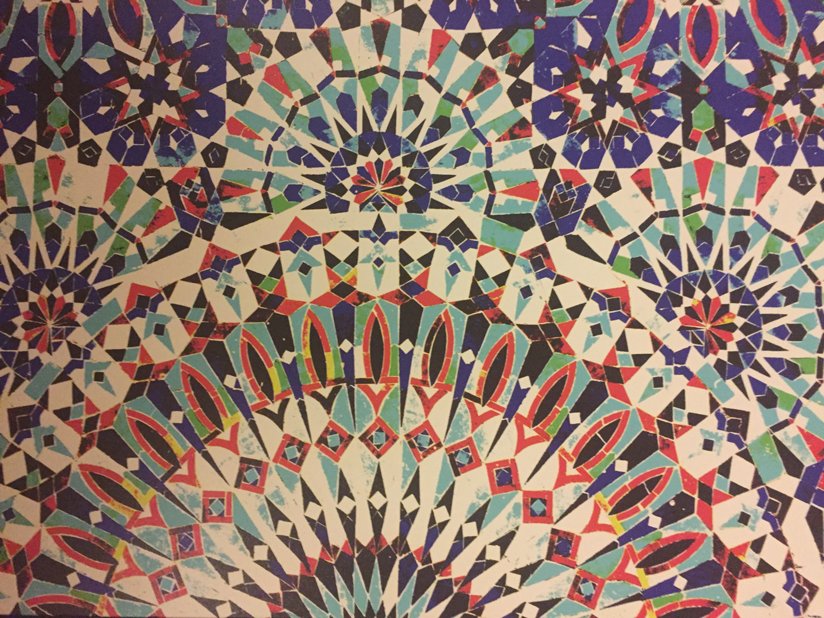 Sharing a Holy Space on Earth
Throughout my adventure I wore Western clothes… white and 5' 10", I didn't need to carry a card to announce my otherness.
But I met many a friendly, English-speaking person.
While getting a henna tattoo and watching an impossibly long whirling dervish performance, an Emirati mother and I lament the screen time available to children. Her son sits nearby with his iPad. She reminds him of her rule: he must read twice as long as he plays "that silly Minecraft game." She also shows me how to tie a traditional headscarf (hijab)… a skill which I will use the next day when I visit the Grand Mosque.
I meet another mother from Syria. Another writer, she was here on assignment when civil war broke out in Syria and prevented her return home. She tells me she is "one of the lucky ones"—her family is with her, she is alive.
We have three nationalities, but are united as mothers, each with an 8-year-old son, each wishing our children lived in a world without war.
I catch a real vision of such a peaceful future when I visit Sheikh Zayed Grand Mosque.
The mosque makes an incredible impression: it boasts architectural and design inspiration from India, Turkey, Egypt, Morocco and elsewhere, with a gleaming white exterior and imposing size, accommodating 40,000 worshipers in simultaneous prayer.
I find my tour guide equally impressive, his humor and insight a highlight of my entire trip.
I am "Jacob" he says with Arabic inflection. "But you may call me 'Jay-cobb,'" he repeats in a flat, American-sounding pronunciation, "because you will anyway."
In order to enter, men and women go through separate changing chambers, where I place traditional robes and a headscarf over my clothing. I tie my scarf as the woman had shown me the night before, and several people comment on how comfortable I look.
I am comfortable.
I am impressed.
Not every faith will open their sacred space to visitors. This one closes to non-Muslims for prayer and Ramadan, but otherwise welcomes all faiths.
Louvre Abu Dhabi works differently. To walk through its hallways, its "chapters," is to experience the story of humanity in chronological order.
Jacob shares what the space means to him—the attributes of God inscribed on the walls, the gleaming crystals and soaring spires, a testament and tribute to a higher power.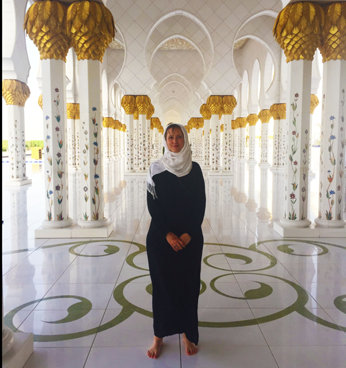 I may not worship the same way, but I can sense the joy and togetherness of an entire faith, kneeling in deep, simultaneous obeisance. I can hear the music that calls them to prayer.
Islamic leaders gather here as well, to determine which passages will next be taught from the Koran.
Jacob tells me they seek to help end extremism in Islam, by meeting and agreeing to their common messaging.
"We are working on our branding," he jokes to his Western audience. The Islam he knows teaches love and peace and tolerance. "If people would just turn off the news and come meet us!"
I understand his plight.
I am on a similar mission.
Art for an Artist, and Piet Mondrian
The message of our shared humanity, combined with the mission of arts and education in Abu Dhabi, is on display as I visit Louvre Abu Dhabi.
As an artist, I'm a museum fanatic, but I've never seen another like Louvre Abu Dhabi.
Most museums organize spaces by culture or exhibit—styles and nationalities get subdivided, parceled out in a way that disorients a viewer from the simultaneous, shared timeline of the history of Earth.
Louvre Abu Dhabi works differently. To walk through its hallways, its "chapters," is to experience the story of humanity in chronological order.
As a result, pieces from Asia, the Middle East and Europe are displayed side-by-side, and something miraculous happens: you catch a glimpse of our shared civilization, the criss-crossing, bisecting, interacting story of humanity as it actually unfolds.
Arabic tile patterns with their similarities to Elizabethan damask (even the word stemming from the Syrian city Damascus), ancient scriptural texts on display side-by-side, and a favorite artist of mine, Piet Mondrian, viewed by women donning the attire traditionally worn by women in the area for millennia.
Again I sense it, our criss-crossing cultural roots. We have evolved into different nationalities, our modern "tribes," but so many of our forebears exchanged with one another. It wasn't all "holy wars" and enslavement. Ideas, language, even fabric crossed these routes.
A Glimpse of Life in the Future
On my last night, I Skype with my family at home.
"What time is it there?" my son asks.
"Nine o'clock on Sunday night."
"It's Sunday morning here!" he laughs.
"Yes, I'm living in the future!"
And it is true.
I spent three days living as though in the future—where we can live our own faith, and respectfully allow others the same right, where students and mothers and artists of many cultures all share the same visions.
"Travel is fatal," Mark Twain wrote, "to prejudice, bigotry, and narrow-mindedness… Broad, wholesome, charitable views of men and things cannot be acquired by vegetating in one little corner of the earth all one's lifetime."
I felt it… a piece of narrow-mindedness dying… and a vision of peace in its stead.
It is a possible future.