Building Peace and Justice Through Communication
The annual convention of the Religion Communicators Council (RCC), held in Atlanta last month, was attended by communication professionals from a broad range of religious organizations, including the International Director of STAND, Edward Parkin.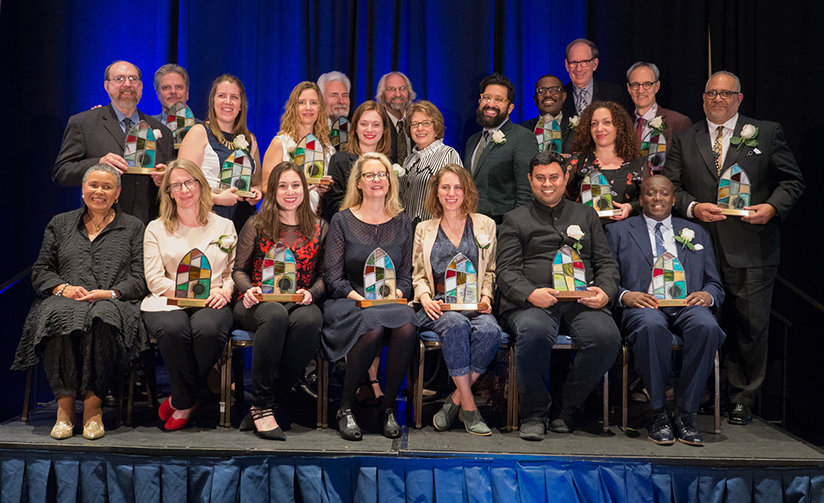 Rev. Dr. Byron Thomas, senior pastor of Atlanta's Ben Hill United Methodist Church, delivered a moving address on the convention's theme, "Realizing the Dream of Peace and Justice Through Communication." Rev. Thomas' congregation helps many of those most in need in the Atlanta area through a food bank, financial assistance, and other services.
Good Works Recognized
At one of the convention's key events, the annual DeRose-Hinkhouse Memorial Awards dinner, RCC recognized members for exemplary accomplishments over the previous year in various professional categories, bestowing an Award of Excellence or an Award of Merit in those categories.
For its work in 2017, Scientology Media Productions won four awards:
Design, Overall Publication: The Award of Merit for International Scientology News Issue 68, "New Year's Celebration 2017"
Illustration: The Award of Excellence for Freedom Volume 49, Issue 1, Cover Feature, "The Data Demon"
Illustration, Publication Cover: The Award of Merit for Freedom Volume 49, Issue 1's Cover, "The Data Demon"
Photography, Film, Series: The Award of Excellence for Celebrity Issue 439, Cover Story on Jim Meskimen
Workshops and seminars over the course of the convention provided attendees with opportunities to interact, to learn, and to share experiences.
At one seminar, Dr. Cylor Spaulding of Georgetown University, author of "Building a religious brand: Exploring the foundations of the Church of Scientology through public relations" in the Journal of Public Relations Research (Volume 29, Issue 1, 2017), presented. Professor Spaulding expressed how deeply he was impressed with the care and attention to detail L. Ron Hubbard, Founder of Scientology, exhibited in his annotation of Effective Public Relations, the acknowledged definitive text on PR by Scott Cutlip and Allen Center.
Convention attendees also enjoyed the opportunity to tour such Atlanta landmarks as the Martin Luther King Jr. Center for Nonviolent Social Change and the Center for Civil and Human Rights.
"This was three days of valuable interaction with so many people working to create a better world—one based on peace, harmony and understanding," STAND's Edward Parkin said. "The RCC is a purposeful group with good-hearted people and excellent goals, one that values honesty and openness in communication, and how they can improve things for one and all."